TABLE contributor Ungelbah Davila contemplates the beauty of New Mexico and the necessity of self-care during a staycation at the Four Seasons Resort Rancho Encantado in Santa Fe.
The real gem of the Four Seasons Resort Rancho Encantado isn't the luxury suites or the peaceful little casitas, but the way it has all been designed to bring the loveliness of the landscape to your front door.
Even as a lifer here, I never get used to the wonder of Northern New Mexico. There isn't a bad season to enjoy the taupe and emerald-speckled sides of her rolling hills. You never get too old to be dazzled by her sky. And rarely is it too hot or too cold to sit outside and let the high desert air tease you with a soft, piney breeze.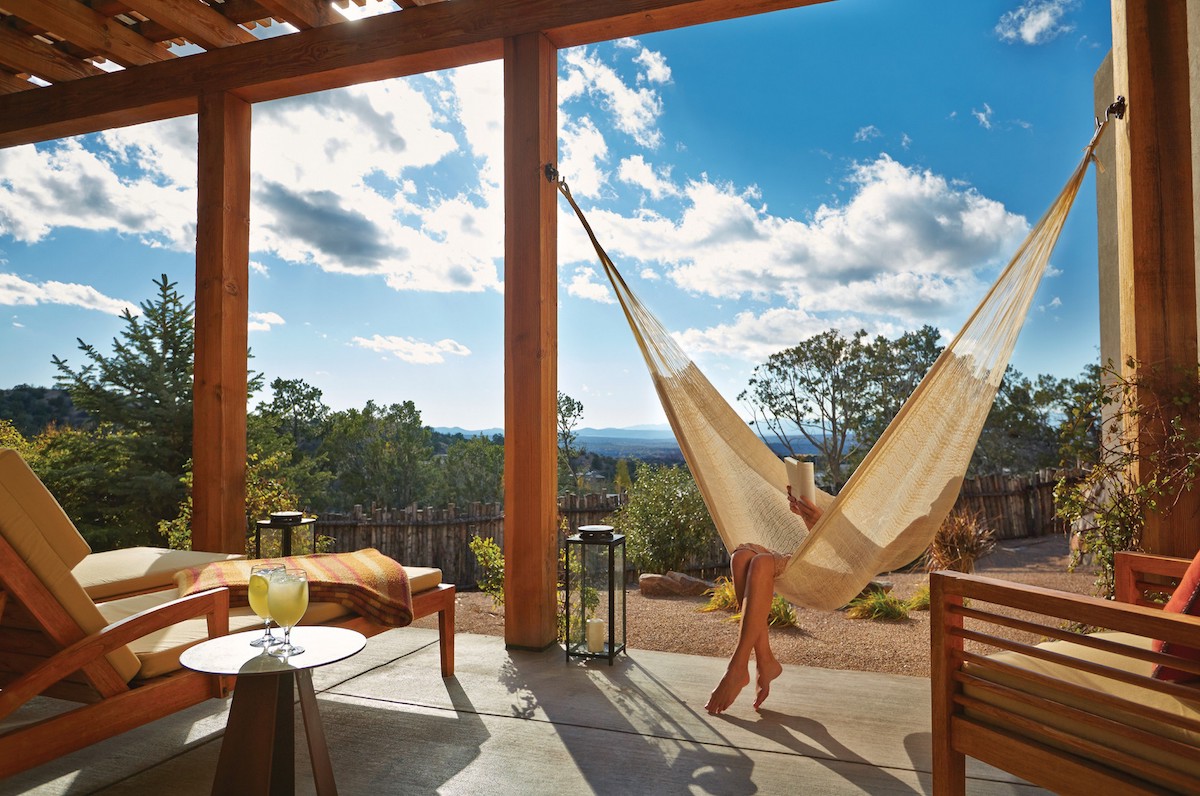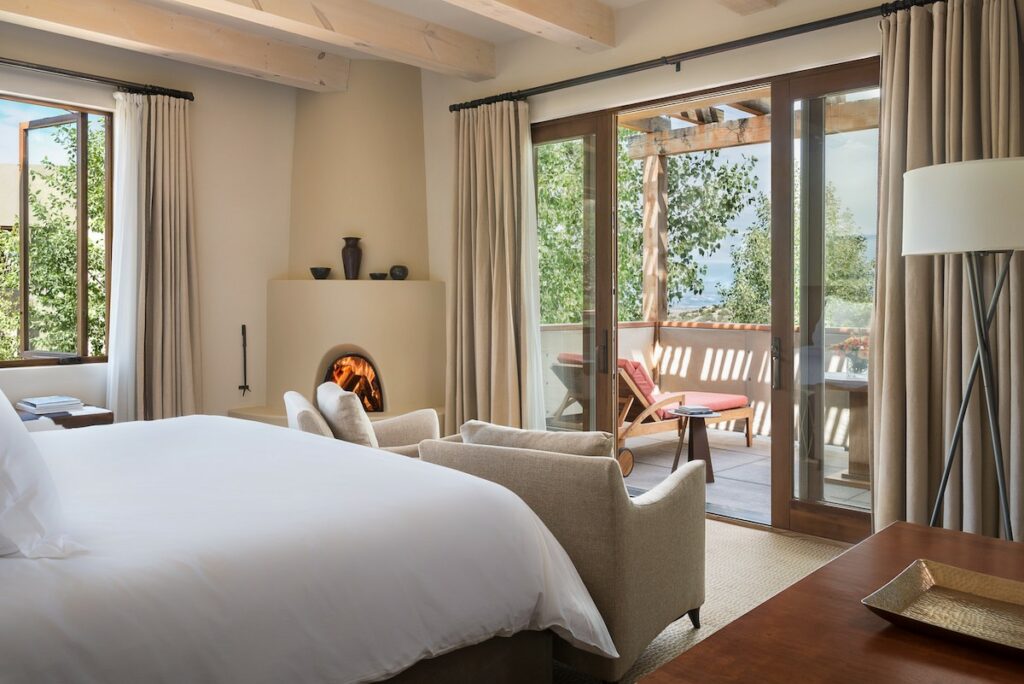 The indoors meet the outdoors at this Santa Fe resort.
This Land is a Muse
In Santa Fe, a city known for its art, the land is a muse, and what better time to visit the muse than when you are seeking to escape the world of reason. Tucked into the foothills of the Sangre de Cristo Mountains, the Four Seasons Resort Rancho Encantado is a place to reconnect with yourself.
After an exceptionally difficult few months, I immediately felt my breath grow deeper and slower the deeper and slower I drove the winding road to the Four Seasons. Chamisa and piñon welcomed me before I saw the first human, and those moments of solitude began to prepare me for the welcoming embrace of the property.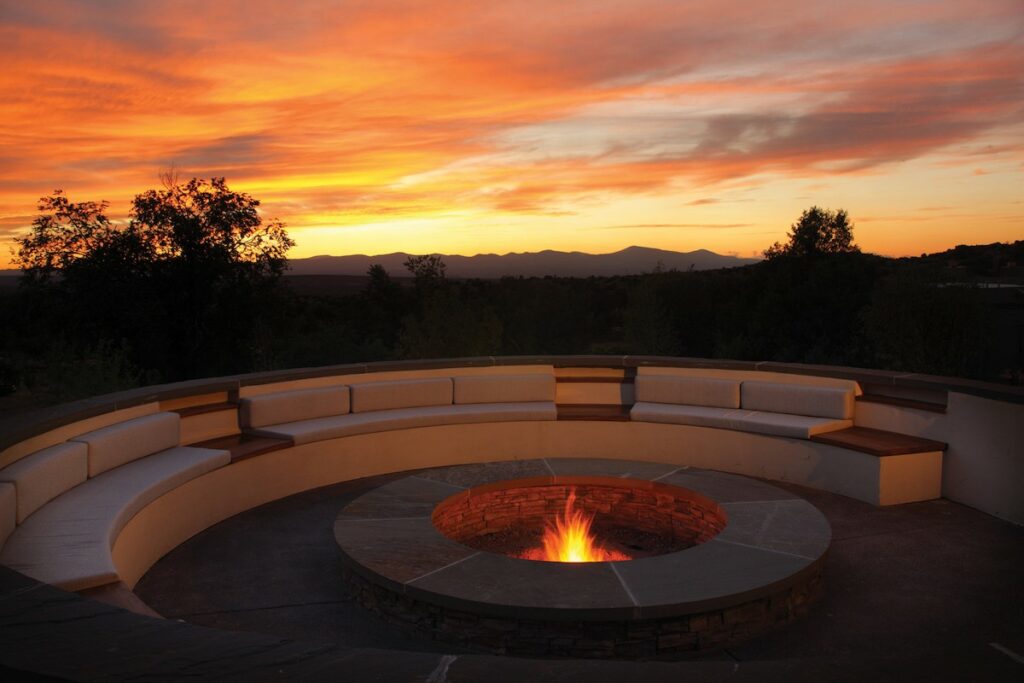 You never get too old to be dazzled by her sky.
As a working wife and mother of a two-year-old, me-time consists of getting a proper breakfast and remembering to drink enough water. Even when I'm not worrying, I'm closet worrying, so a staycation of this magnitude, for me, required exactly two glasses of wine, a couple of divine tacos, and a friendly chat with the friendly bartender to get me acclimated.
The Silence of the Lands
The first thing that struck me was the silence, or rather, the space to silence my mind and fall into the moment. With a childlike peace, I became aware that the adults around me had everything under control, and I could simply be.
My adventure guide Deena Joseph arrived on time but easily fell into my pace, effortlessly guiding me out of the lobby and into her adventure-mobile with the precision of Mary Poppins. I had a vague awareness that my last taco must have put us at least 10 minutes behind schedule, but she never let on.
It went like this for the rest of the afternoon as we embarked on our Boots and Bubbles adventure, consisting of my two favorite things: cowboy boots and wine. Fashion designer Wendy Lane Henry opened the first Back At The Ranch custom cowboy boot store in 1990 when she moved out West and realized the world desperately needed boots designed by and for women. Today she's "outfooted" everyone from Tom Ford to Reba McEntire.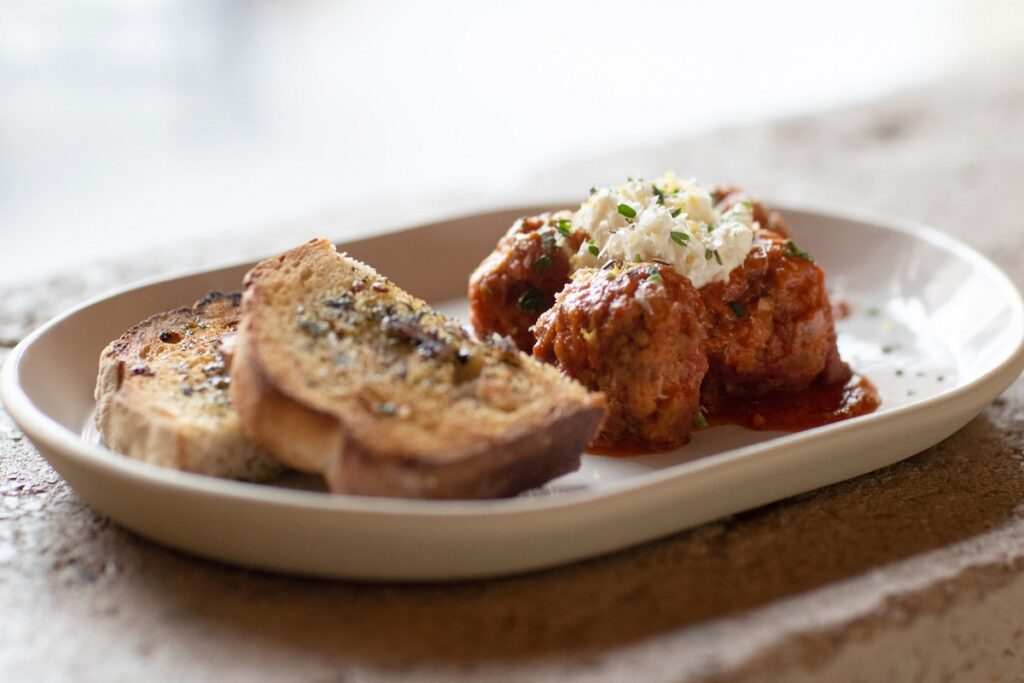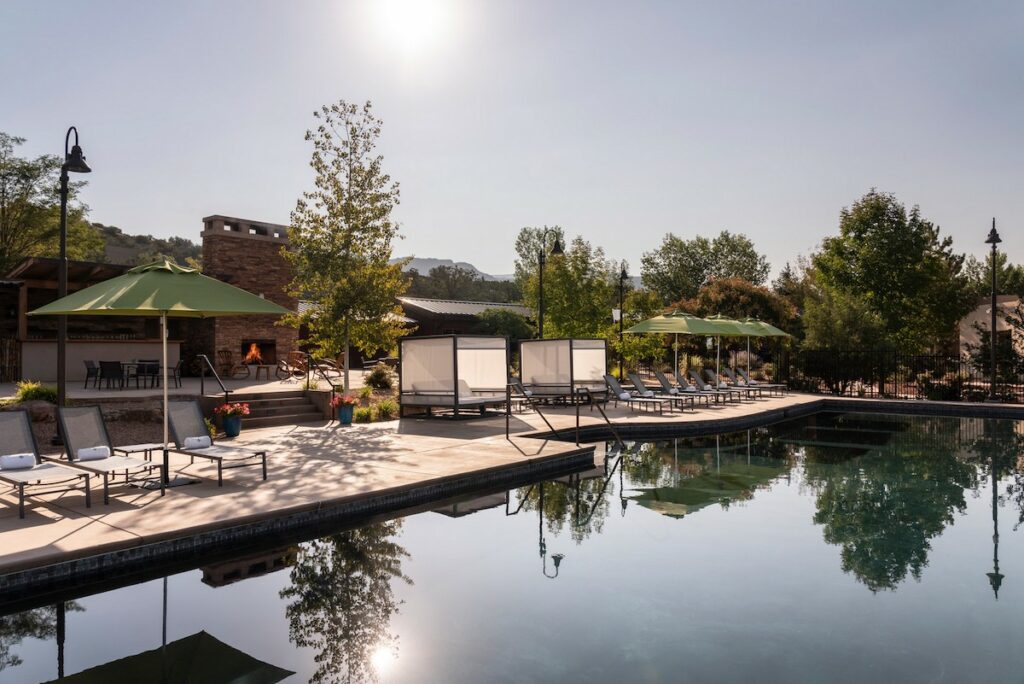 From wine tastings to spa treatments and lounging by the pool, there are numerous ways to enjoy your time at the Four Seasons Resort Rancho Encantado.
Fine Wine
The sun got lazy over the plaza as we meandered her nonsensical streets to a flight of still and sparkling wine at Gruet Winery's Santa Fe Tasting Room. If your ideal day isn't complete without rosé, Gruet's selection will leave you more than satisfied. But their Cab Franc, Reserve Pinot Noir, and Chardonnay are classics done right for the still wine enthusiasts among us.
With a lovely selection of brut and blanc in my belly, I made my way to dinner at Terra at Four Seasons Rancho Encantado where Executive Chef Jose Fernandez has created a menu full of delicious Spanish influences and Southwestern flair. I enjoyed the Shrimp "Gambas" Al Ajilla and Spanish Octopus a la Plancha, followed by paella.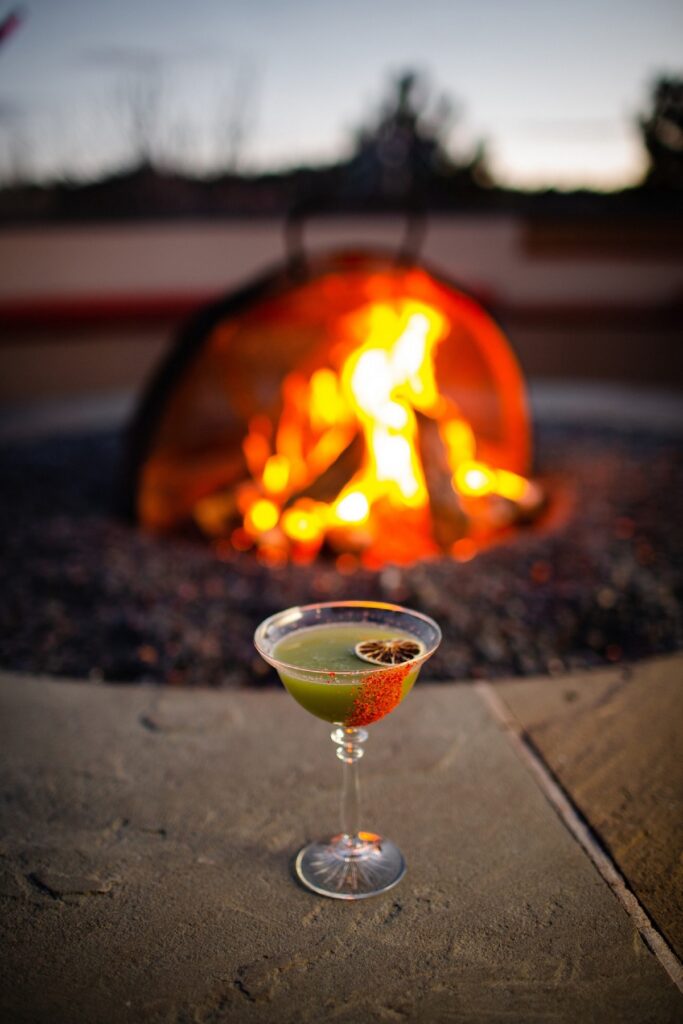 Morning brought my favorite experience of all with a rose quartz facial that was to die for. It felt as if Lisa Ray's treatment went beyond the skin and deep into layers of blocked energy that, using rose quartz, she was able to release in the most gentle, loving way. I left feeling not just restored and beautified, but deeply nurtured. I later told my friend that her facial treatment, which also included a massage of my arms, legs and neck, felt like a big warm hug from a goddess.
The lesson I took home? With all the plates we keep spinning in our lives, self-care is necessary to stay strong and grounded in our power. Being in nature, forgetting about time, and letting someone else take the wheel lets us get back to our best selves.
Story by Ungelbah Davila

Subscribe to TABLE Magazine's print edition.