You've likely savored The Compound's scrumptious Chicken Schnitzel, draped in a parsley lemon sauce and dotted with capers. Or perhaps you've relished the hearty slow-braised Osso Bucco, Grilled Heritage Pork Chop with pomegranate pork jus, or flavorful Bucatini with Maine Lobster Tails. Yet, no matter how often you've dined at this venerated Santa Fe restaurant or how many extraordinary seasonal dishes you've tasted, one meal will always remain off-limits. Unless that is, you're hard at work in the kitchen, turning out the fabulous food that has long placed The Compound on the world's culinary map.
A Kitchen Family Tradition
"It's kind of a tradition in the kitchen where the cooks will often cook for themselves," says Mark Kiffin, who has owned The Compound for more than 20 years and, in 2005, became only the second person in New Mexico to win the coveted James Beard Best Chef of the Southwest award. "It's a simple thank you. The big part of it is you're not under any pressure. It's not about the wow factor, it's about a thank you. The camaraderie is already there, and the chefs really are making the meal to take care of each other."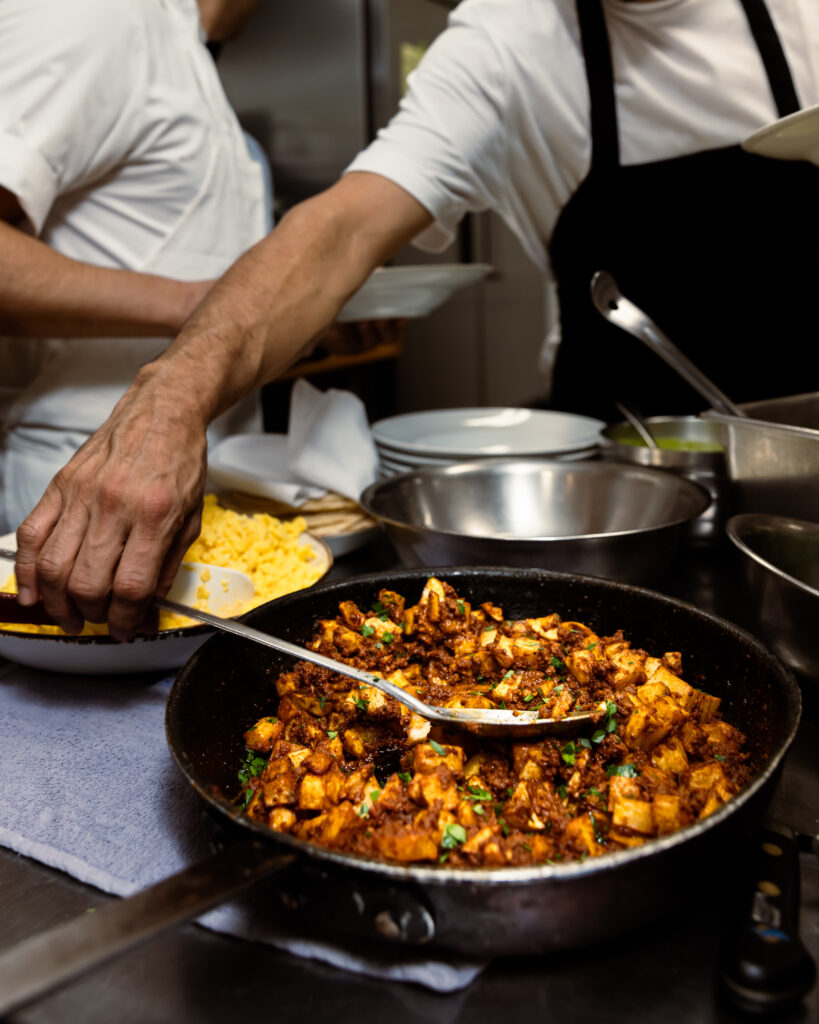 The Compound's kitchen meal is a variation on the family meal, or staff meal, that many restaurants serve to their employees for sustenance and a sense of togetherness before the start of a long, often demanding shift. A few eateries in the country started serving the family meal in the 1970s, and by the 1990s, the tradition had firmly taken hold. It became so rooted, in fact, that The Family Meal: Home Cooking with Ferran Adrià—a collection of nearly 100 relatively easy-to-make recipes from one of the world's greatest chefs who cooked at El Bulli, the now-closed three-star Michelin restaurant in northern Spain—remains a global bestseller more than a decade after it was published. 
Spicing Up Breakfast
The Compound's version of the family meal, shared by 10 or so chefs of all ages, is often served for breakfast, as the work day begins, or later, as an after-dinner shift snack. "It's usually of the Latin flavors, which The Compound doesn't serve," says Kiffin, known for his signature Contemporary American menu, which blends New World influences with Mediterranean flavors. "There are times when I'm a part of it, and then times when I will buy things at the grocery store for them to cook with, like chorizo, tortillas, and cilantro."
As the kitchen staff preps for the day starting around nine or 10 a.m. before The Compound opens for lunch service, the chefs will often throw together a meal that reflects their Mexican heritage. "They'll always put a salsa together. The degree of heat depends on who makes it," Kiffin says. Then they might cook scrambled eggs with potatoes or refritos, chorizo seasoned with garlic and cilantro, and serve it all with a stack of corn tortillas.
Sometimes, French toast is on the menu, made with Bimbo bread, a product of the iconic Mexican bakery company that now operates throughout the United States. Everyone eats on the fly as they're setting up for lunch. "We don't get a lot of sitting down," Kiffin says. "Eating while standing over the trash can is a way of life. It also gives them a little energy. They have to make sure they have something to keep them going once we start lunch."
Late-Night Snack
The kitchen meal that is cooked up after The Compound's dinner shift ends amounts to more of a snack that the crew enjoys while closing things down. Tacos are at the top of the list for this time of night. "We also do pasta, and depending on where we are in the schedule, there are spicy chicken legs and thighs and, every now and then, one of the guys will bring in mole from home," says Kiffin. "This meal is usually done quickly, to give someone a snack before they're going home. We shouldn't eat this late. It makes your heart race and you don't sleep well."
Story by Lynn Cline / Photography by Tira Howard

Subscribe to TABLE Magazine's print edition.