Gifting is one of the five languages of love (alongside touch, time, affirmation, and action). Whether you give a tiny statement of thoughtfulness or a major monument of adoration, you can always find a lovely something from local boutiques and makers, like the jewelry items featured below.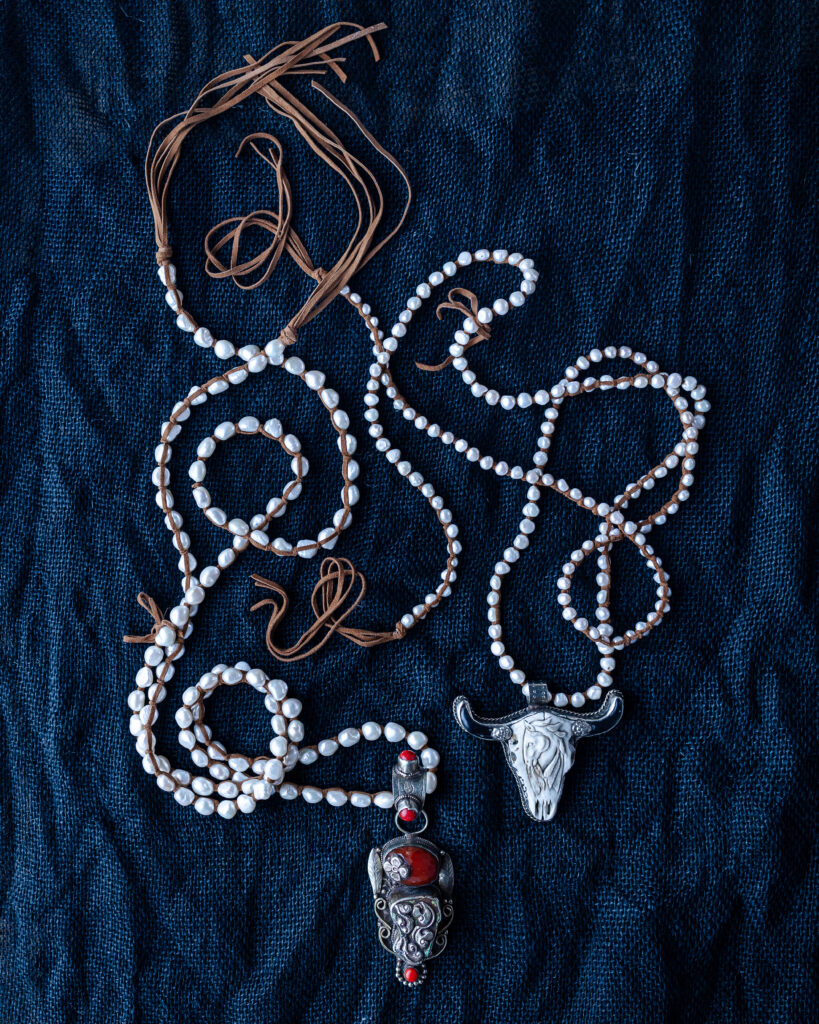 Wrap yourself in a string of pearls woven together with supple suede and set off with a carved pendant. One-of-a-kind pieces that are as much artwork as jewelry.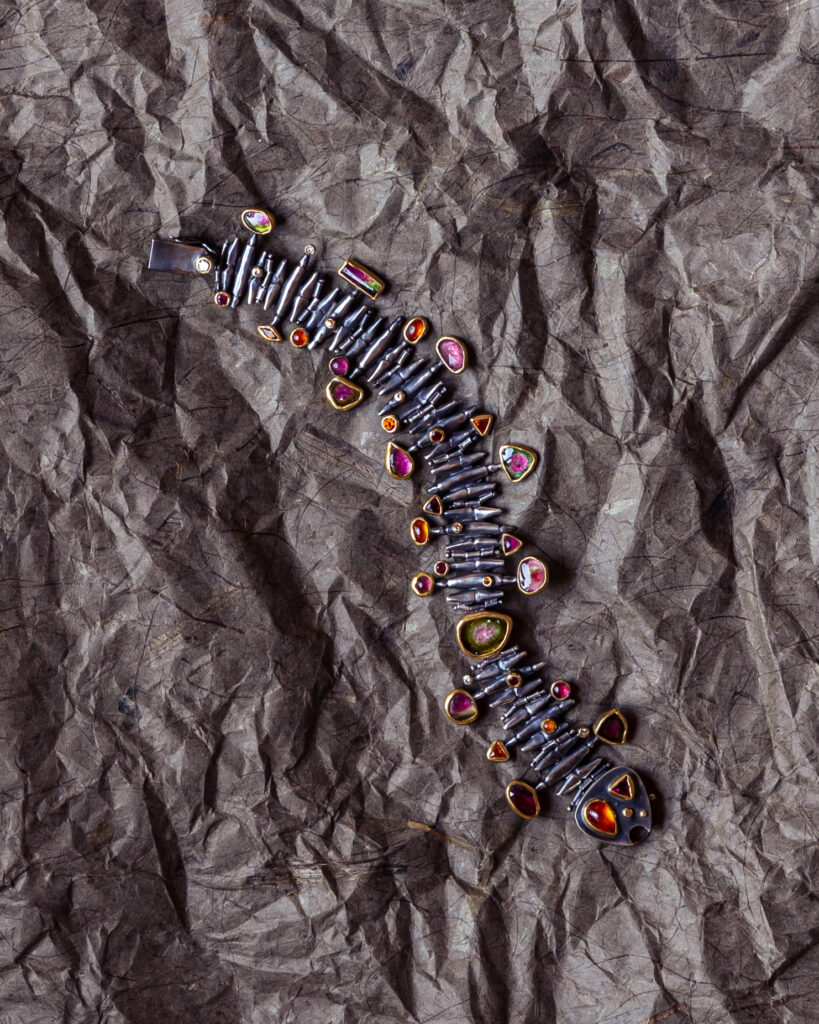 Artist Alison Antelman is inspired by both the human-made as well as the natural world. Each piece is fabricated and forged by hand with individual "pods" hinged and soldered so the pieces–like this tourmaline bracelet–drape beautifully.
Dazzle with these 'Dendritic Quartz Drop Earrings' made by artist Carolyn Morris Bach from 18- and 22-carat yellow gold, dendritic quartz, and brown diamonds. When worn, the unique peculiarities of the earrings emit gorgeous soft tones — guaranteed to put a smile on someone's face.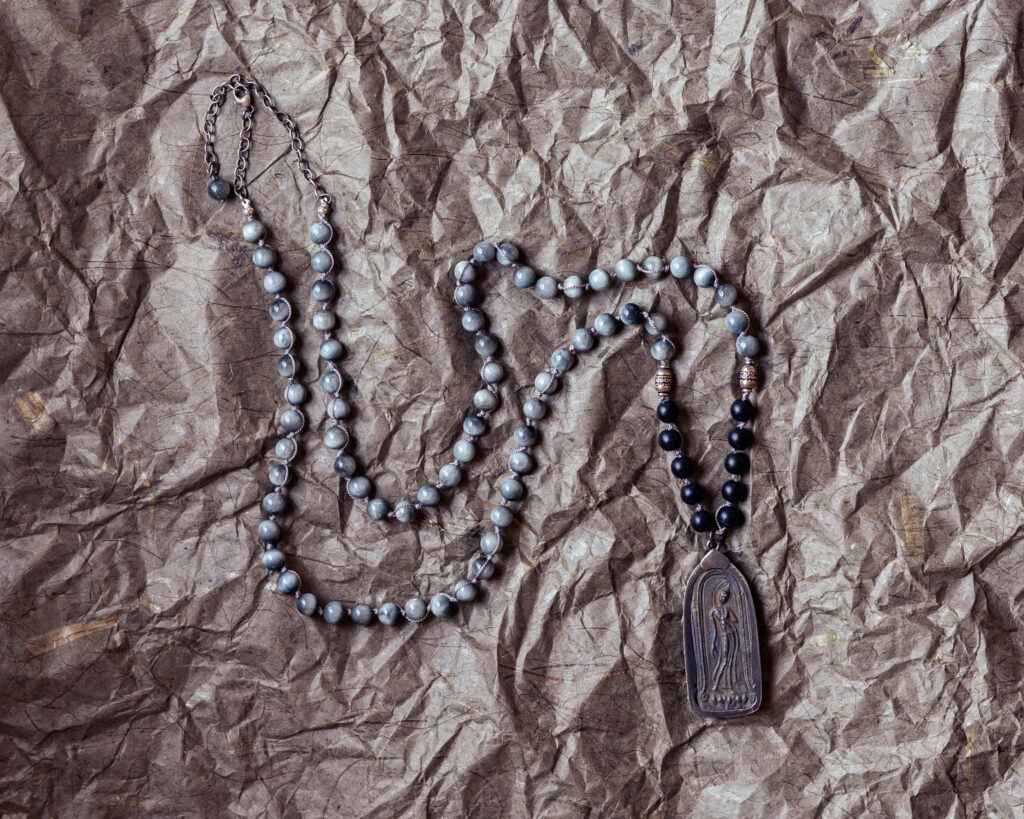 This mysteriously smoky pendant depicts a lithe and lovely apsara, a Southeast Asian spirit of air and water. She sways from a string of stone and silver beads whose adjustable length closure will help you position her to best advantage.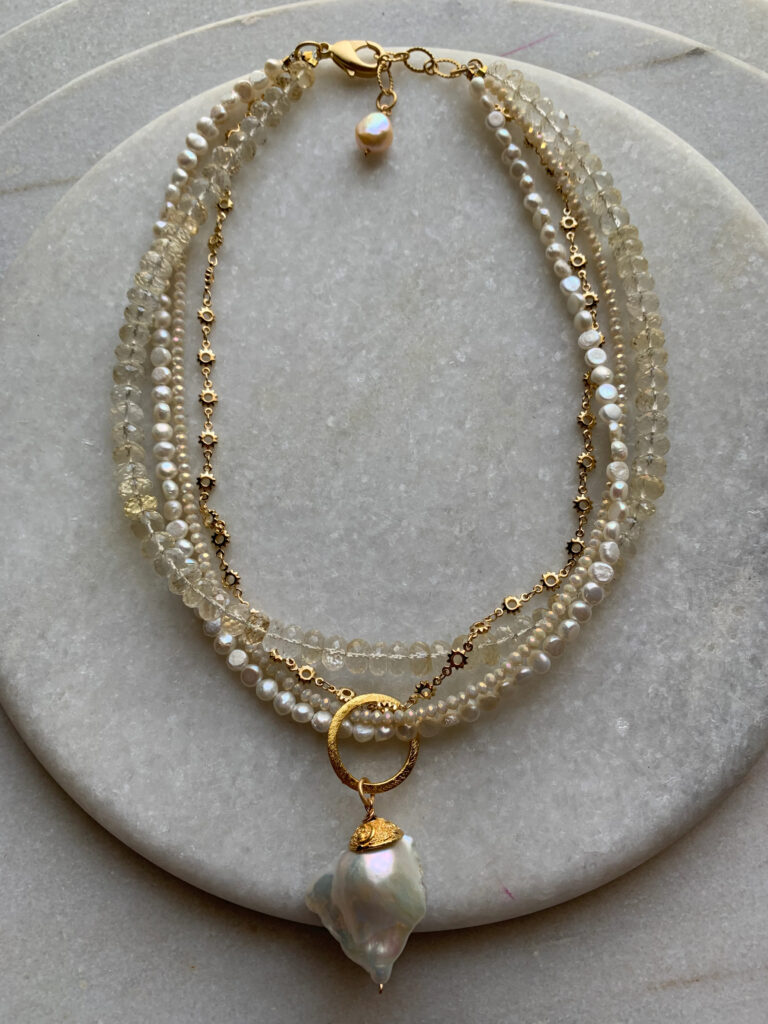 A flaneur strolls about town, taking in the sights and sounds, and contributing a bit of charming chatter to his or her environs. Your flaneur-ing is bound to be rich and rewarding when decked out in this gathering of unique trinkets. You can wear the necklace, an 18″ choker with four individual strands of semi-precious stones and a gold finish chain. Or you can unclasp and split the strands into two sets to wear as a 36″ long necklace. Handmade in Santa Fe. Each one varies slightly.
Raw and natural minerals, like the Garden quartz crystal and green tourmaline cabochons shown here, form evocative pendants suspended from handmade, adjustable sterling silver chains. A second necklace enriches this photo: the handmade Fringe Flapper Chain combines Herkimer diamonds and sterling silver.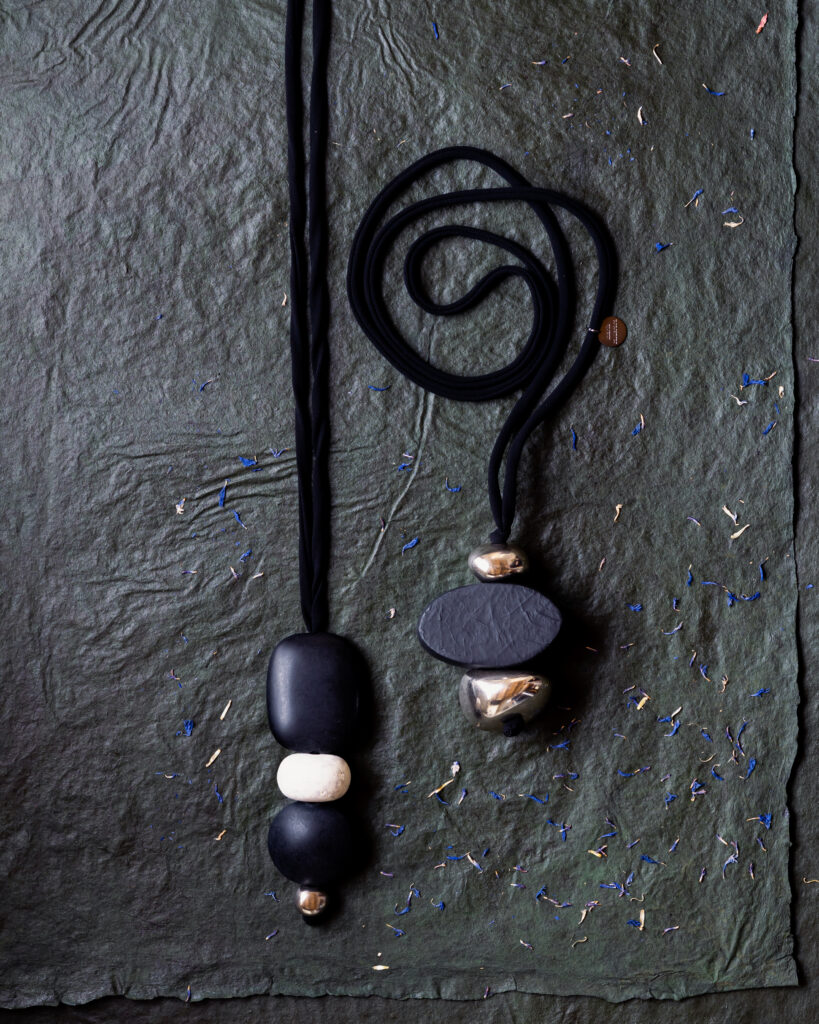 Specializing in clothing with clean lines and flowing forms, this store also offers lovely jewelry with a Minimalistic bent. Take these elemental beaded pieces, for example: their scale, simplicity, and eternally appealing materials are admirable.
Ring in the new year with earrings from Cynthia Jones. From left, Cloud Earrings with a gentle undulating shape; Lunar Hoop with metalwork that will remind you of a crescent moon; and Deco Earrings that are sleek, geometric, and reminiscent of a bygone age. Visit Folklore on Garcia Street in Santa Fe for more.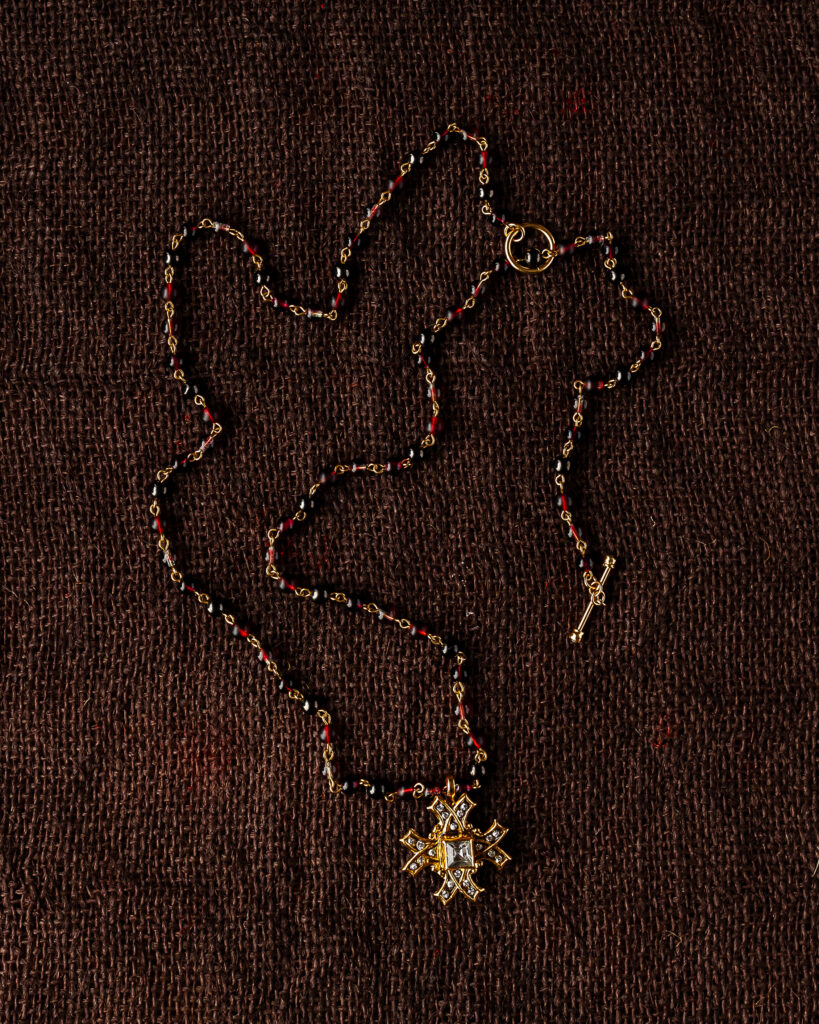 Whether you're feeling sacred or profane this season, a necklace from Virgins Saints & Angels is in order. More than a piece of jewelry, you're gifting a bit of mystery, good fortune, and a generous sprinkling of magic.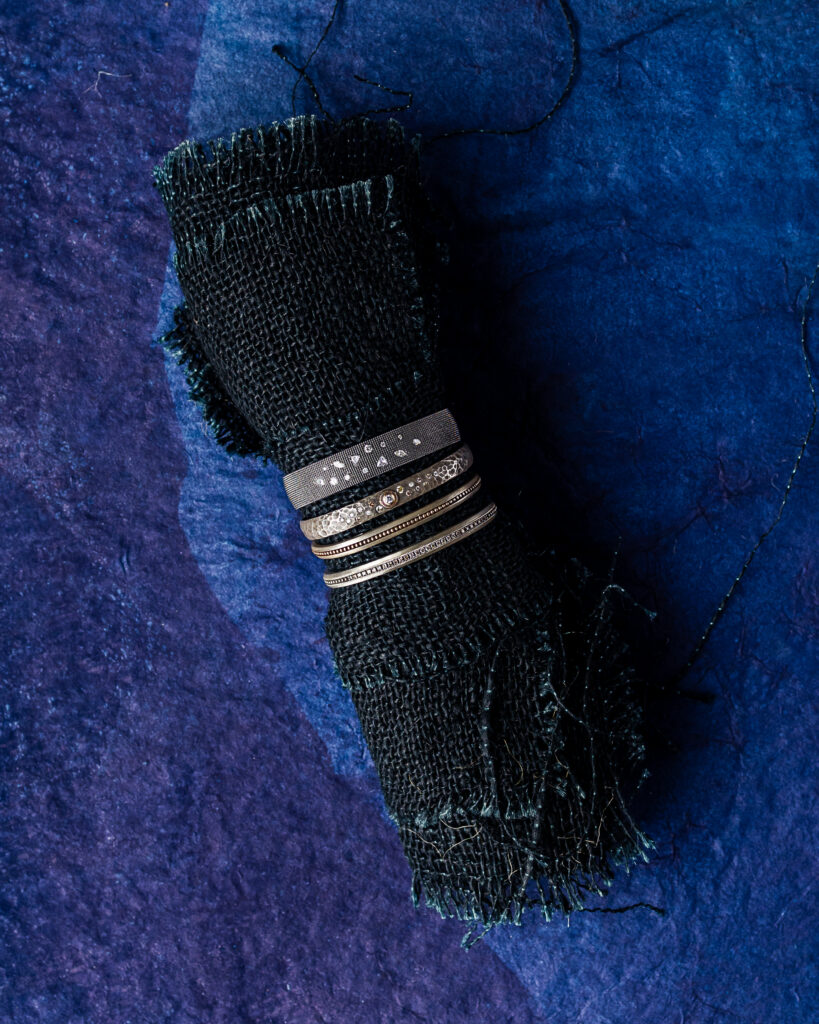 Vintage-finished sterling silver cuffs with or without diamonds. You could choose one, but stacked they look even more smashing.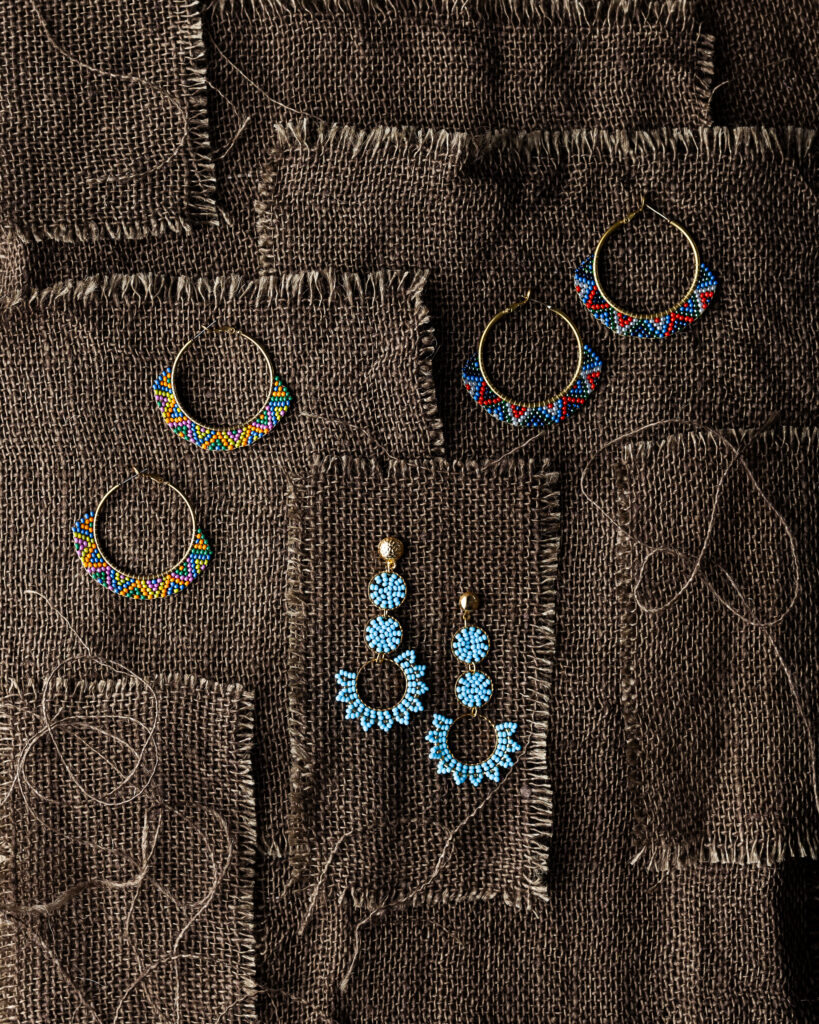 It's all in the detail with these delicately worked, beaded earrings from Guatemala and Ecuador that you'll find at the Museum of International Folk Art shop, a treasure trove of one-of-a-kind gifts.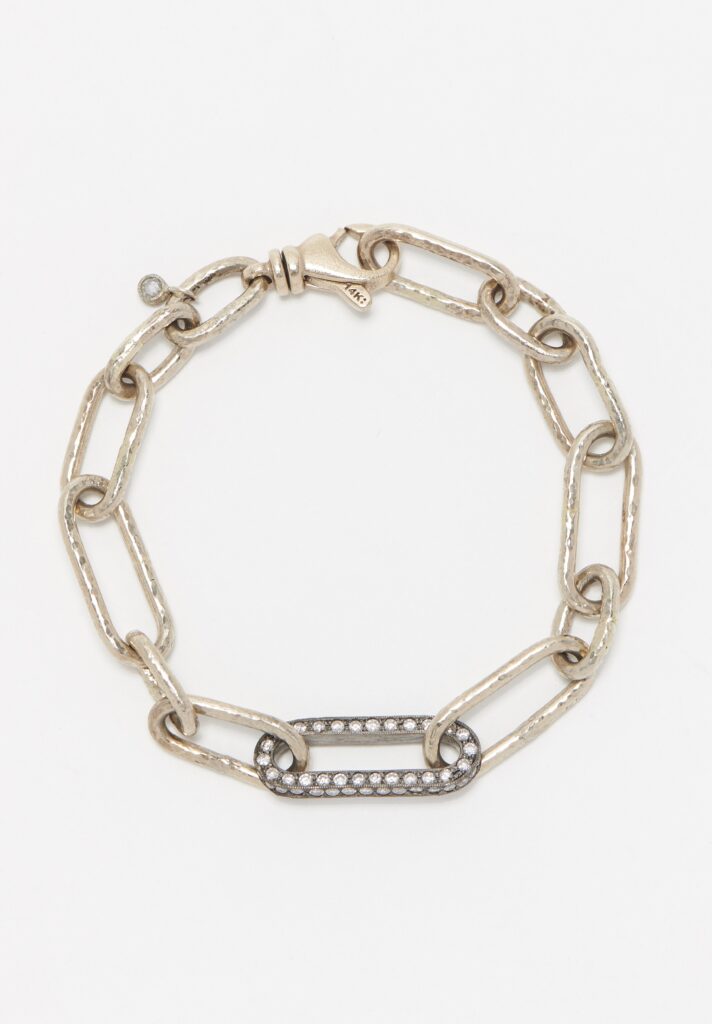 Deck the halls, wrists, and neck with Christmas cheer from Santa Fe Dry Goods. TAP by Todd Pownell offers a stunning 18K white gold pave-diamond link bracelet: think a string of paper clips but more grown-up and glamorous.
Bogotá-based Claudia Fajardo's pieces are handmade from a combination of colorful glass beads and sterling silver. Inspired by nature and its shapes and colors, the pieces are full of texture and movement.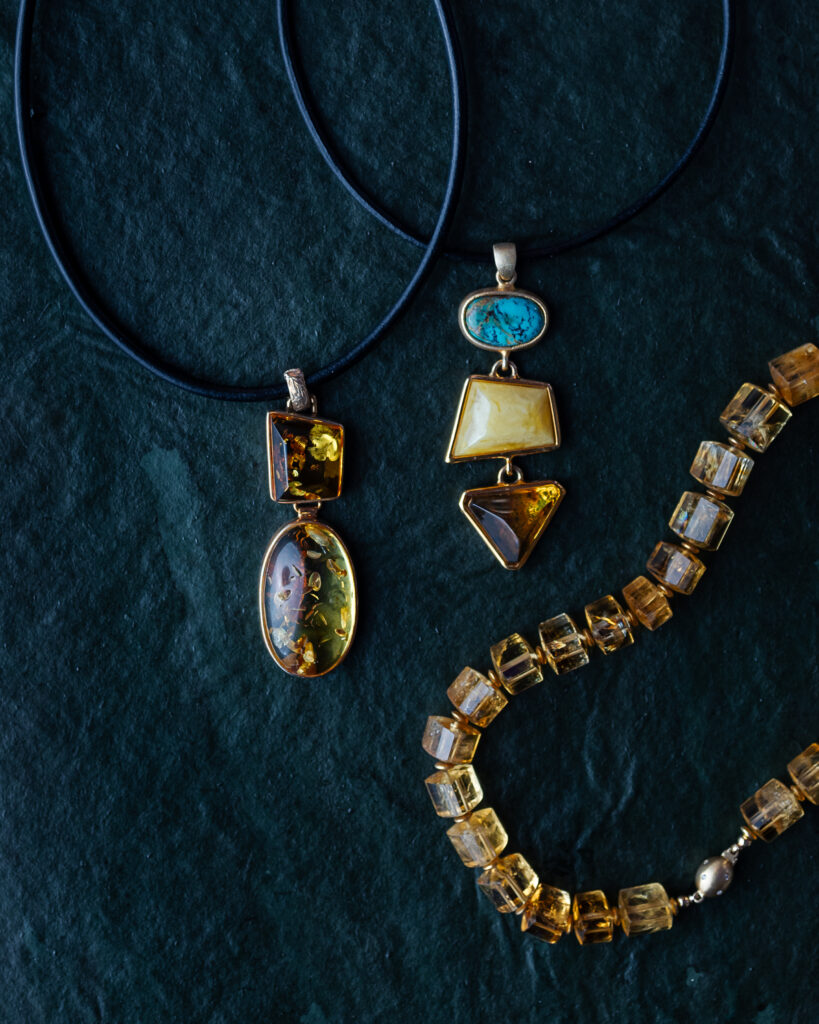 Amber has been used in jewelry since the Stone Age and is credited with healing properties, attracting good luck, and averting misfortune. Anyone receiving one of these amber necklaces from Sukhmani would be lucky indeed.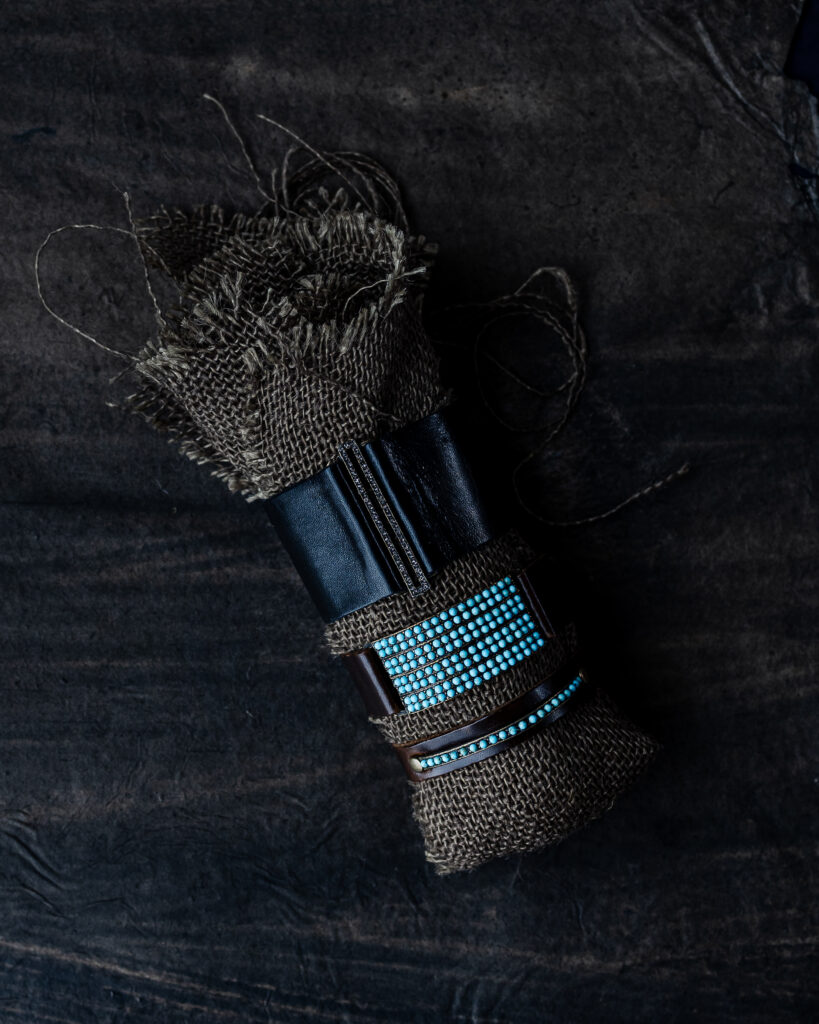 Add a hit of dark and stormy with cuffs in leather and turquoise. They wrap beautifully around the wrist, solo or as a coven.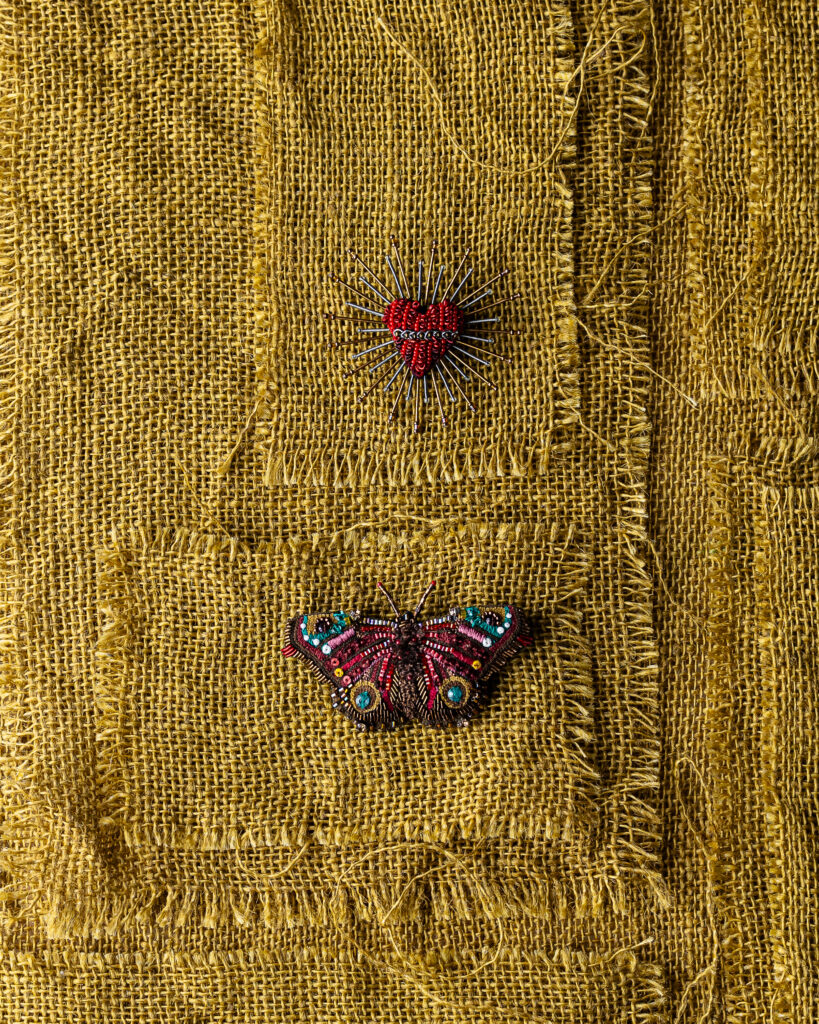 Wear your heart on your sleeve or anywhere else, for that matter. Hearts and butterflies and other crafted creatures to adorn your outfit from the Museum of International Folk Art, always the spot for inspired gift-giving.
Gifts for Women Selected by Julia Platt Leonard, Keith Recker, Justin Matase, and Wendy Ilene Friedman / Styling by Keith Recker / Principal Photography by Tira Howard

Subscribe to TABLE Magazine's print edition.