Gifting is one of the five languages of love (alongside touch, time, affirmation, and action). Whether you give a tiny statement of thoughtfulness or a major monument of adoration, you can always find a lovely something from local boutiques and makers, like the following home products perfect for gifting. Perhaps shopping local is a sixth love language — one that speaks to lively main streets and healthy small businesses!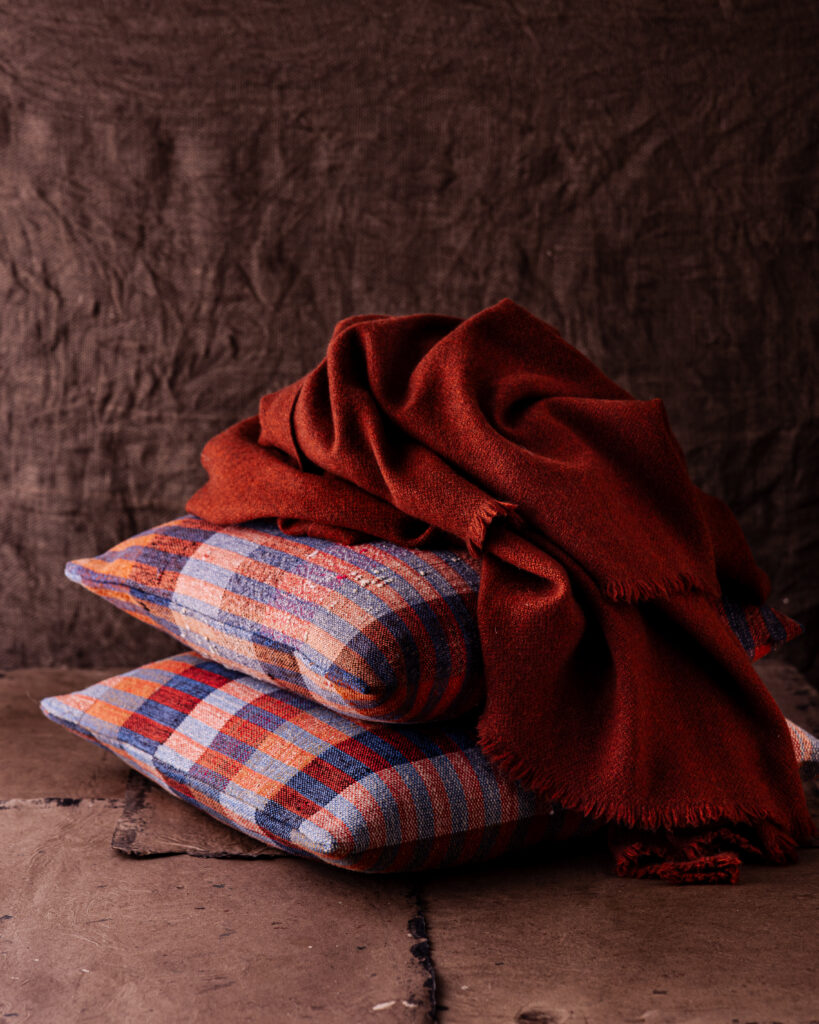 Living Threads is home to an astonishing range of hand-woven, natural-fiber textiles–everything from cashmere to yak. From the softest throws to the most plumpable pillows, many tactile experiences await your curious fingers.
Sit back, relax, and ease into the holidays with unique cushions from The Collective. Ideal for a quick pre-party design makeover or as a cushy gift idea. These three are the merest sampling of the riches stocked at the store.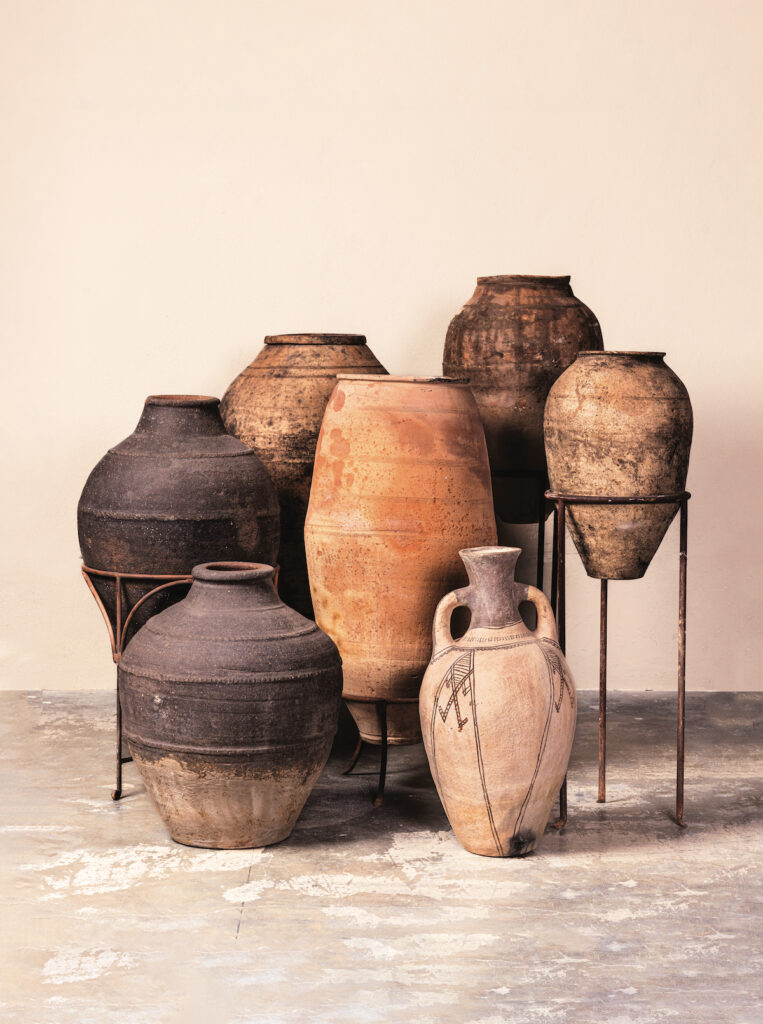 The timeless appeal of terra cotta vessels lends gravitas to any interior. These handmade, vintage beauties — some elevated with wrought metal stands–do the job with elegance and authority. Find them amid the many layers of finery on offer at this Railyard store.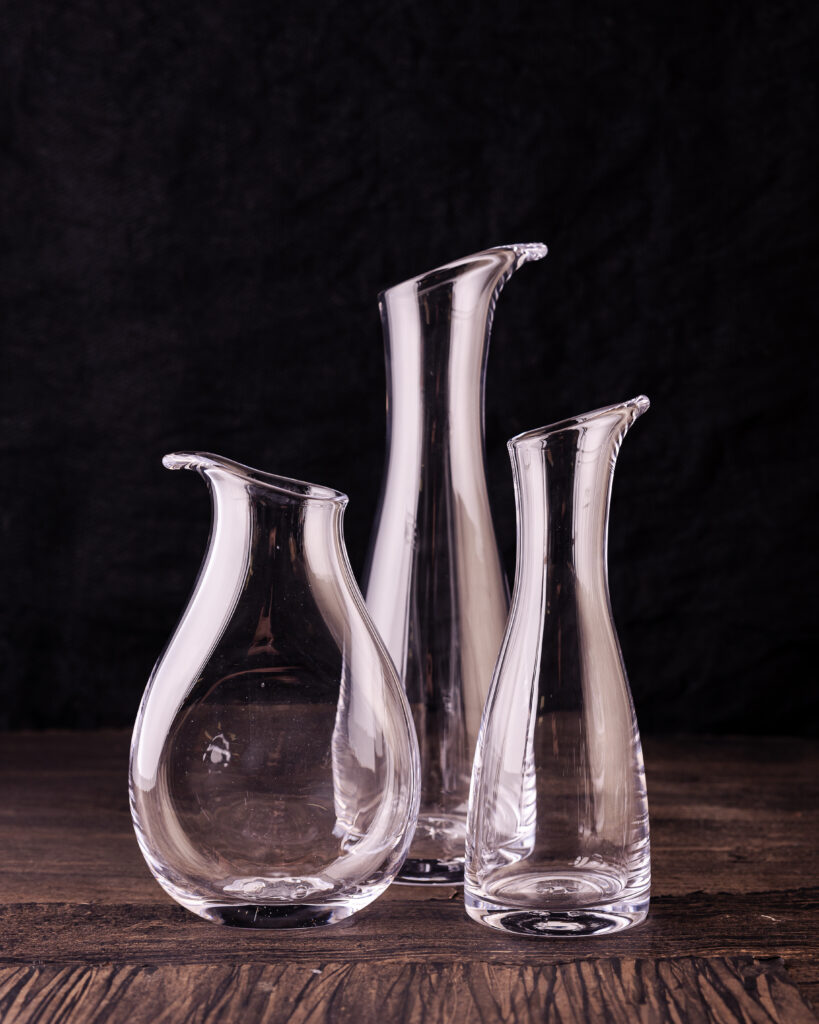 These modern takes on the classic carafe come from the Vermont workshop of Simon Pearce. Clear as the New Mexico sky, and just as beautiful.
Ceramic flowers from Array Home bring a breath of spring to your table. Flowers in soft greens, pinks, and yellows create an outdoor landscape indoors.
Trek to Truchas to find one-of-a-kind, fun and funky gifts at Eight Million Gods. Clay coasters in the shape of a hand are ideal to hold a holiday cocktail or even a votive candle.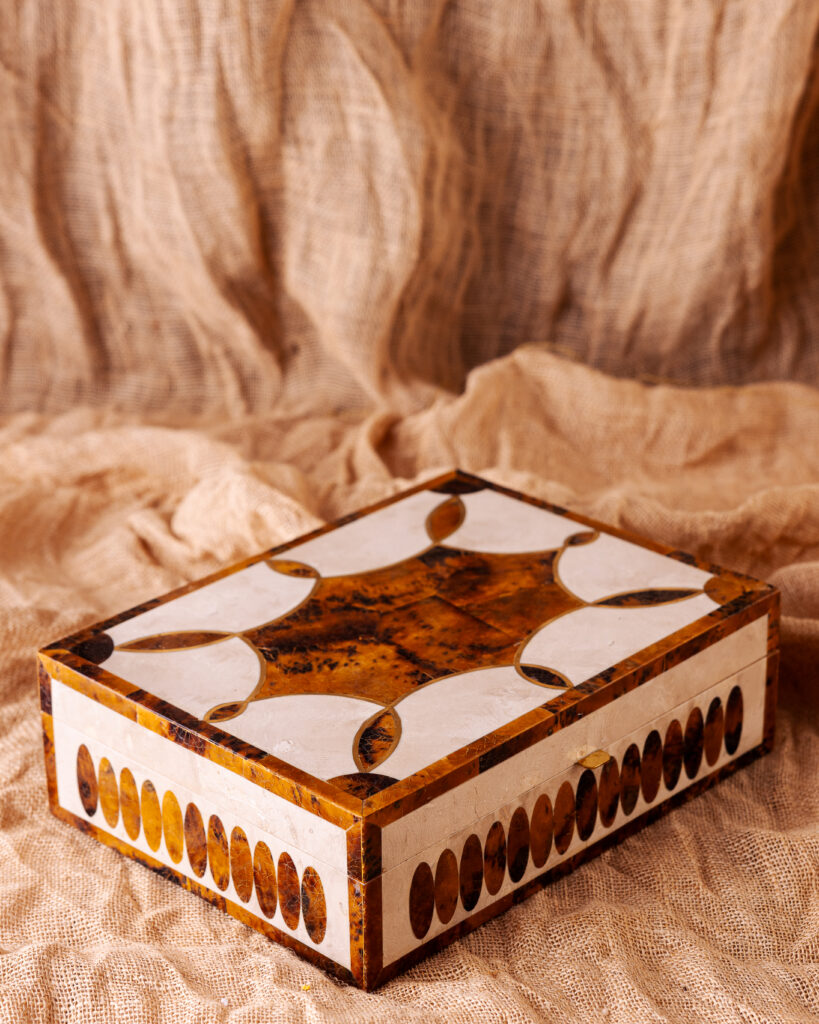 Store the trivial or treasured in this handsome, inlaid box made from white fossil stone and tiger penshell, a large, saltwater clam found near the Philippines. The interior is lined and the box features smart polished brass accents.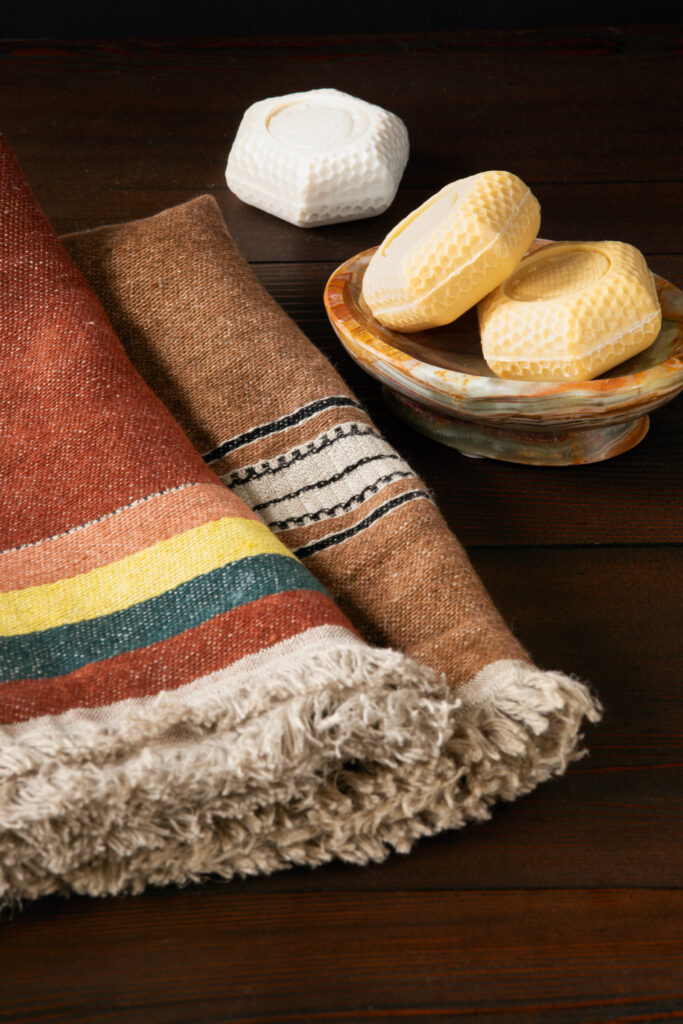 As the days grow shorter and nights longer, create a sanctuary in your home. This marble soap dish with swirls of amber, gold, and creamy white holds bars of honey soap–rich in lanolin–or goat's milk honey soap with a hint of wild rose. Belgium linen hand towels are almost too lovely to use (they look fabulous on the table or crafted into pillows, too).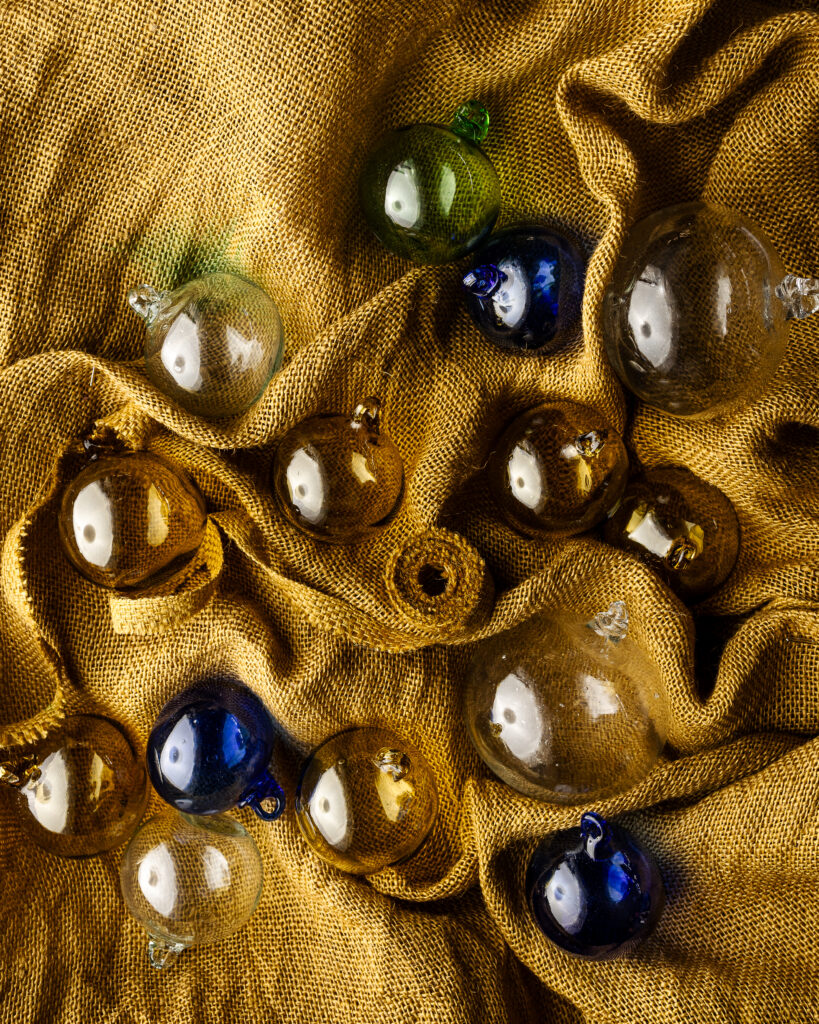 Handblown glass baubles made from recycled glass come in a sophisticated range of colors. They can be hung on your holiday tree, or nestled in a bowl all year long.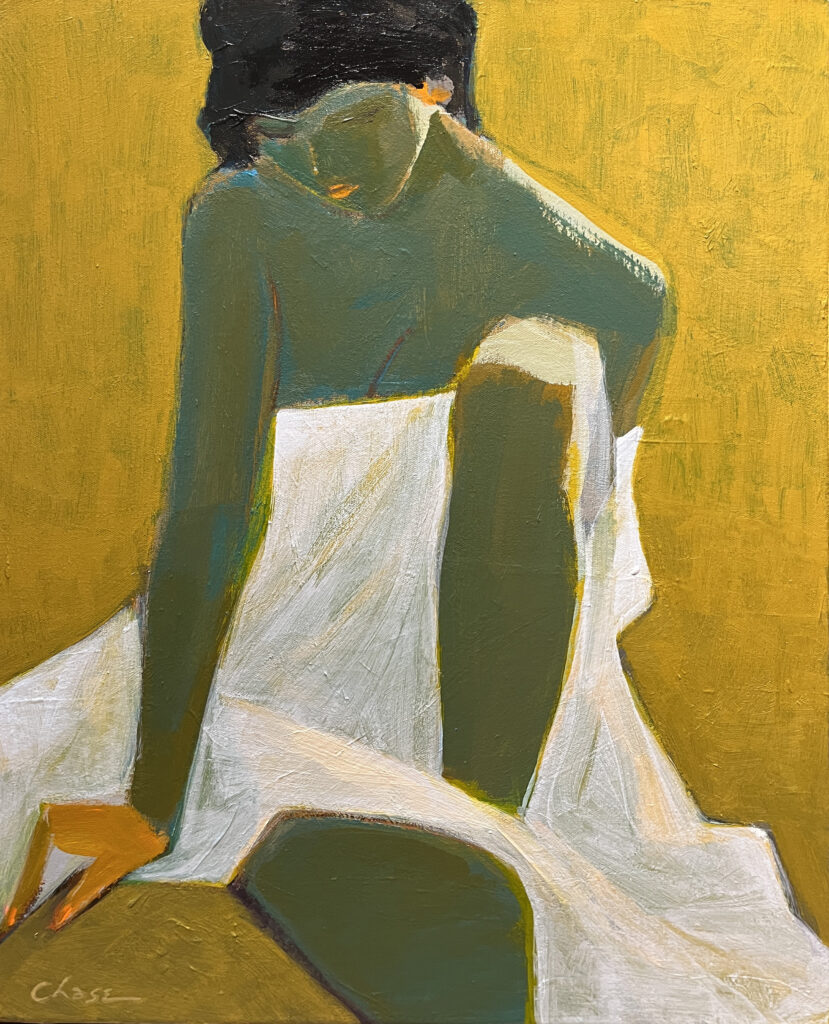 "Skin Deep," by artist Jamie Chase, draws on the artist's interest in abstracted figurative work, his years in Europe, and inspiration from ancient Egyptian art, European cave paintings, and Native American art.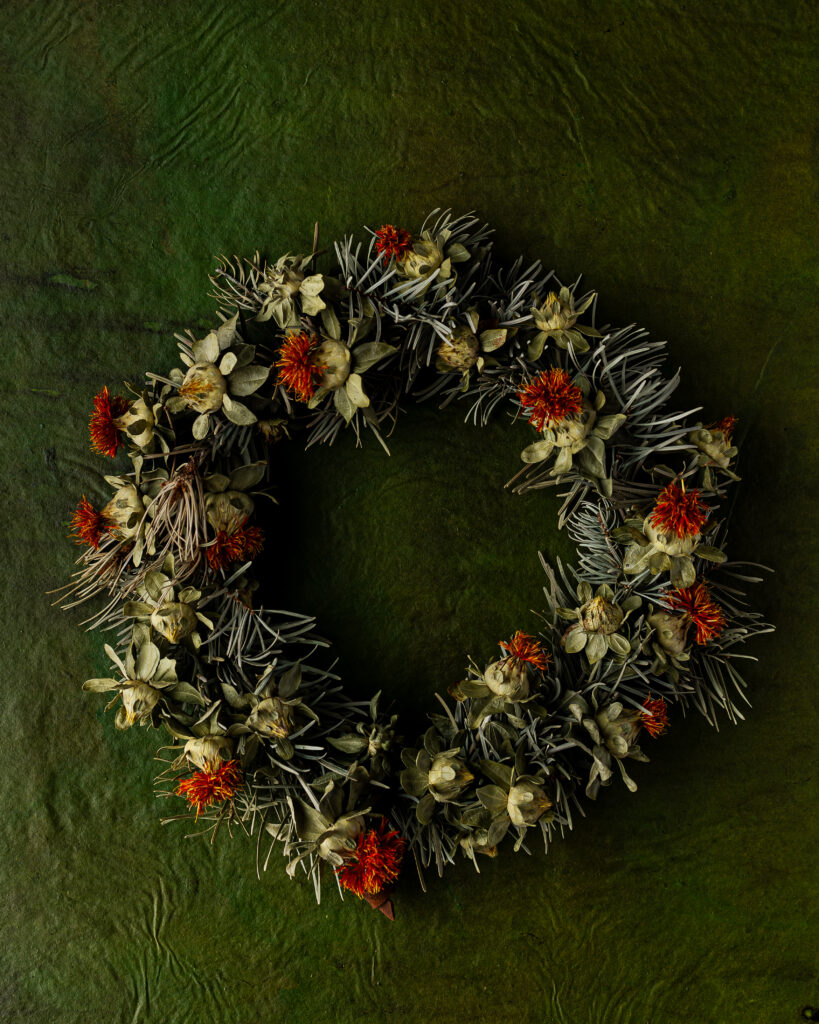 Flowers and foliage foraged in New Mexico are the basis for these stunning wreaths by Canadian-born and now Santa Fe-based artist Arella Hordyk. Visit Folklore on Garcia Street in Santa Fe for more.
This paws-worthy pet emporium features neckwear for the most discerning dog. Collars made of Italian leather with European cabochons in light turquoise. Available in cat sizes too, for your feline friends.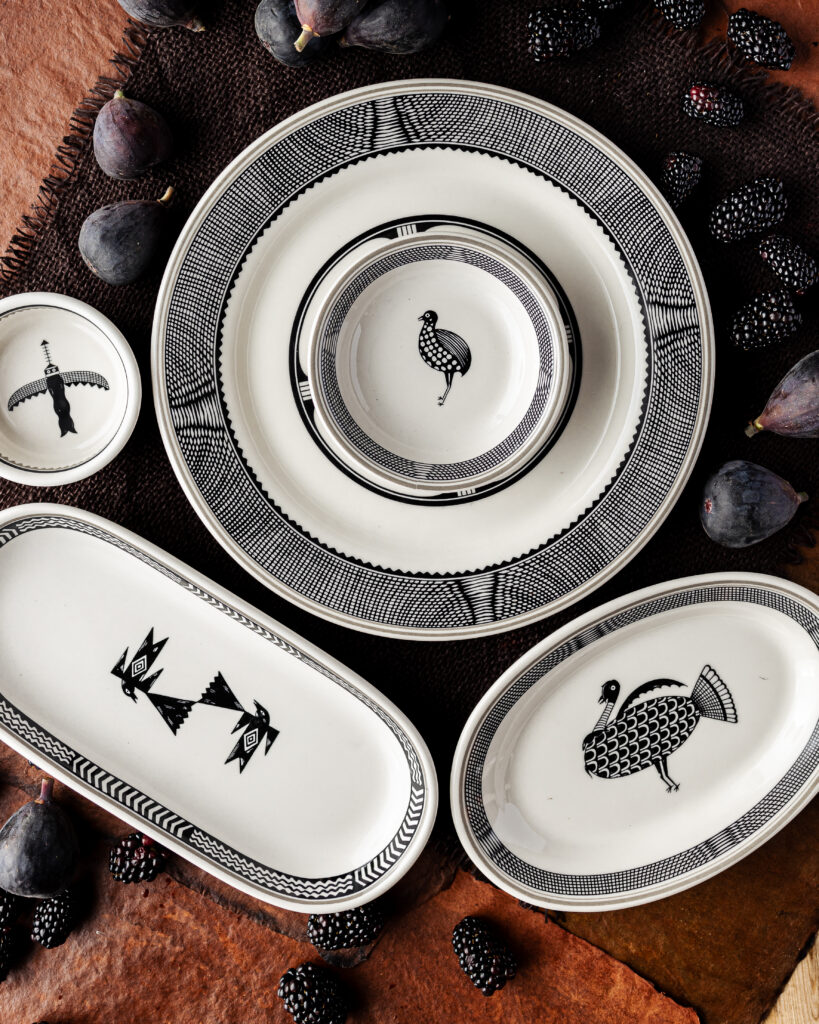 Mimbreño dinnerware is part of the heritage of the American Southwest. Made in the USA for the Fred Harvey Company's El Tovar Lodge, it is available at La Fonda on the Plaza – another splendid hotel that was once a Harvey House. Oven-, dishwasher- and microwave-safe. Available in dark gray (shown here) or maroon.
From a line of stoneware made for over 50 years in Corrales, NM, these oil and vinegar dispensers are sturdy, simple, and stand the test of time.
Stoneware incised with iconic Southwest images, textures and landscape elements, these vases make a fantastic hostess gift, or a present for a gardener whose summer blooms need to come inside for enjoyment at all hours of the day and night. Visit Folklore on Garcia Street in Santa Fe for more.
Home Gift Ideas Selected by Julia Platt Leonard, Keith Recker, Justin Matase, and Wendy Ilene Friedman / Styling by Keith Recker / Principal Photography by Tira Howard

Subscribe to TABLE Magazine's print edition.