In case you missed it, thousands of lovers of the written and spoken word gathered last spring at the inaugural Santa Fe Literary Festival to bask in the power of story. Four stages hosted some of the world's greatest authors, thinkers, and speakers from around the world––and from right here in Santa Fe. Excitement and anticipation filtered through the hallways and courtyard as festivalgoers lined up to see their favorite writers, and voracious shoppers left the pop-up bookstore in the lobby with bespoke tote bags overflowing with recent releases.
After each session, many were eager to turn to their friends or companions for a debrief on the talk they'd just attended. Others reached for their phones to snap a photo for Instagram or send a picture to their friends and families, letting them know they'd just seen their literary hero in the flesh. Quieter guests preferred to find a less crowded corner of the Convention Center or the courtyard to turn a few pages of a new book before heading into the next event.
Zascha Fox and Mara Christian Harris. A note from 2022 SFILF participant Margaret Atwood. SFILF co-founder Clare Hertel and a canine friend.
Behind the scenes, SFLF co-founder Clare Hertel, chief curator Mark Bryant, and the rest of the event staff worked overtime to ensure everything ran according to plan.
When they're not putting on a world-class international festival, Hertel and Bryant are accomplished hosts, always keen to set a beautiful table and bring friends together. Last fall, 14 guests gathered at the couple's home, celebrating the success of the inaugural Festival and looking forward to a future event.
As golden-hour sun illuminated the living room of their John Gaw Meem home (nestled on Old Santa Fe Trail near the base of Sun Mountain), guests poured in through the oversized wooden front door. Maryanne, Goose, Mellie (the family's three labs), and Suki, an English cream retriever on loan from a friend, served as an exceptionally inviting welcoming committee, with generous tail wags afforded to all. Also, among those in attendance? Journalist/historian Hampton Sides and his wife Anne, model/filmmaker and Festival co-MC Jill Momaday, a host of select volunteers and staff members, and myself.
Zascha Fox. A table detail. Volunteers supporting the Santa Fe International Literary Festival.
Back to dinner: attendees helped themselves to champagne, wine, and sparkling water before grazing on hors d'oeuvres. Mini skewers of watermelon, feta, mint, and balsamic glaze accompanied chilled zucchini soup topped with crème fraîche and cilantro, all lovingly prepared in the house kitchen. A sumptuously simple green salad was sourced from the Santa Fe Farmers' Market. With margaritas or mocktails made from (painstakingly) hand-squeezed lime juice, everyone made their way to the outdoor table. Enchiladas from local staple El Parasol were a hit with the dinner guests as casual conversation wafted above the handmade candle holders serving as centerpieces and an eclectically curated selection of hand-blown drinking glasses from Mexico.
Over pie from Chocolate Maven––a choice between Colonial Apple or Strawberry Rhubarb (or both, of course!), small talk tapered off and the conversation shifted to the Festival, both a discussion of highlights of the inaugural event and ideas for the upcoming one.
Last May, the Reporter said that it "seemed so natural that a town crawling with literary talent should have a festival to celebrate that." "Tales of resilience provided a poignant note to a festival that has served up a feast of ideas, and left those who attended merrily drunk on the power of stories," added the Independent.
This year, the event lives on in a new iteration as the Santa Fe International Literary Festival. The lofty goal is to "reflect the vast diversity of the world's literary community as we strive to create a global gathering of extraordinary writers, readers, and thinkers from near and far in Santa Fe." Sessions in 2022 felt ever-pertinent. Margaret Atwood discussed The Handmaid's Tale in the interim between the leaked draft decision and the official Roe v. Wade overturn. Sandra Cisneros and Joy Harjo shared stories of marginalization as minorities at the famed Iowa Writers' Workshop, and Jon Krakauer spoke about the importance of democracy and freedom of speech within investigative journalism. The curatorial team felt strongly that during this time of extreme change and polarization, these and other speakers were able to show just how much words truly matter.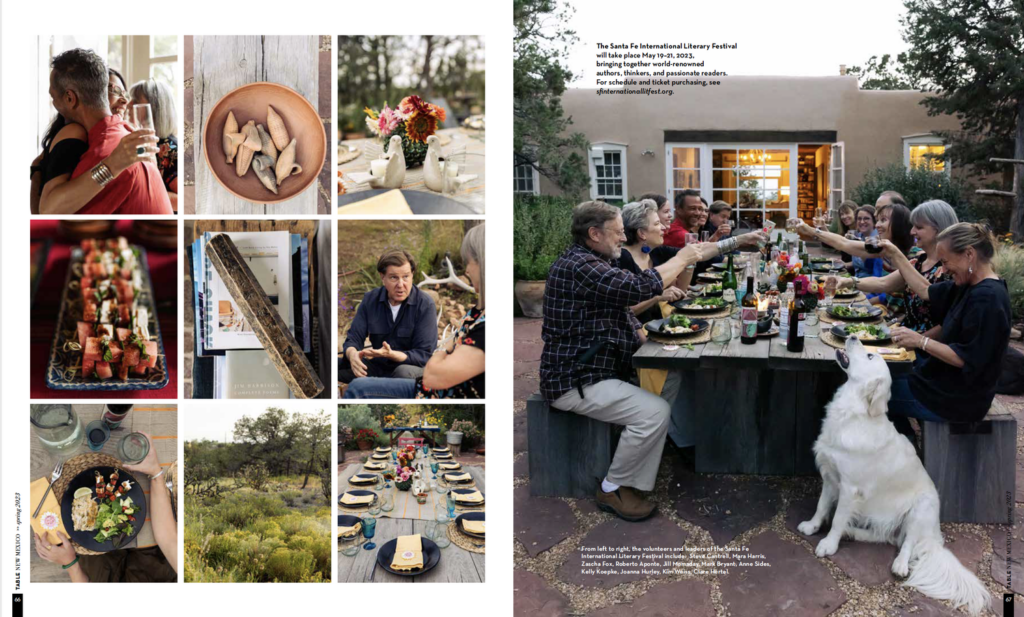 A gathering of Santa Fe International Literary Festival co-founders and volunteers.
Though it would be challenging to capture the total outward impact of an event like the Festival, one particularly gratifying outcome of SFLF was the collaboration that came about between Elena Gonzales, Santa Fe's current Youth Poet Laureate, who read her poetry on the community stage, and the aptly awarded Genius Grant-recipient and SFLF speaker, Valeria Luiselli. The Literary Festival hosted the world premiere of Echoes from the Borderlands, Luiselli's multimedia "sonic essay" documenting the history of violence against land and bodies along the US-Mexico border.
Luiselli and her sound production team met with Gonzales to record some of her poetry for inclusion in the essay, which has already been shown at universities and other venues across the US. "I'm really grateful to the Santa Fe Literary Festival for pulling us together, for giving us that opportunity because she's definitely been an inspiration much more now that I've met her than I ever anticipated," said Gonzales. "When I get the opportunity to connect with women who look like me and who understand me, I feel inspired to keep writing and to push my own creative limits."
For many, the Festival was their foray back into the world of idea-sharing and community inspiration. What better way to dip one's toe into the world of in-person idea-sharing and community inspiration than to bask in the warmth of discussion, conversation, and the magic of the written word? And what better city to host such an event? "That's what Santa Fe is all about. It's different, it's unique, it's enchanting, it's inclusive, it's organic, and it's cool," said Jill Momaday.
For a full schedule and to buy tickets visit sfinternationallitfest.org.
ABOUT THE HOUSE
John Gaw Meem's Dodge-Bailey House is home to Clare Hertel, Mark Bryant, and their daughter. Nancy Meem Wirth, daughter of the celebrated architect, owns the home and grew up on her family's adjacent property, and remembers using the extensive walking trails behind the house to run between the homes as a child. Designed in 1940 for family friends, the Dodge-Bailey house is a prime example of both Meem's Spanish Pueblo Revival and Territorial Revival Styles.
STORY BY ZASCHA FOX / PHOTOGRAPHY BY TIRA HOWARD