The mission at The Love Apple in Taos has always been to serve guests the finest seasonal local foods, organically grown by farmers and other friends, and intended to elevate good cheer and well-being. The same is true of the family meal, served before every dinner shift to the team that joyfully runs this revered restaurant, a group of employees who consider each other as family. 
"One of the reasons that we initially decided on a family meal is that we wanted to create a restaurant that people wanted to work at, and we wanted to create a family," says The Love Apple founder and owner Jennifer Hart. "Most of us have worked together for over five years. We share our lives together."
A Special Meal Each Shift
With the family meal, the staff also gets to share The Love Apple's divine made-from-scratch regional home cooking. The dinner menu changes seasonally with nightly specials and might include such creative fare as Buttermilk Yellow & Blue Cornbread; Three Mushroom Walnut Pâté; Grilled Trout Wrapped in Corn Husks; and House-Made Potato Gnocchi — ethereal dishes that nurture and delight. (The food, along with the flawless service and rustic, romantic ambiance, is why many people consider The Love Apple to be one of the best restaurants in New Mexico.) The family meal, prepared by Chef Jenni Ford, is of the same caliber, equally delectable and nurturing as well as diverse.
"Jenni's family meals are amazing," Hart says. "She always has a salad and a main and she's always trying to do something amazing, like steak and fajitas, tacos, and a delicious gluten-free vegetable lasagna, because so many people are gluten-free. It is challenging for Jenni because everyone has a different thing they cannot eat. One person doesn't eat dairy, and another doesn't eat meat."
This intimate restaurant, housed in the former Placitas Chapel built in the 1800s, is steeped in atmosphere and charm, with just 13 tables, (plus patio seating in the summer) hand-hewn vigas, distressed wood floors, elegant chandeliers, candlelight, fresh flowers, and other inviting details. Before the dinner guests arrive, a last-minute flurry of activity unfolds in the serene space, often as the family meal takes place. 
"The Love Apple's staff meal looks different depending on the day," says Manager Cheri Keil. "Most evenings, we are running around to put finishing touches on the dining room or throwing another log on the fire for our guests to walk into a cozy and welcoming space. Jenni takes care of us. She feeds us whole and hearty meals to get us through a shift… It's not always glamorous but as we wait for our guests to arrive, you will find us chatting about specials or a fun and funky new wine."
Time For Innovation
Often the team sits down together to catch up on what's happening at the restaurant. "It's the time when we talk about what's new on the menu, what's going on in the restaurant," Hart says. "We'll open a bottle of wine and analyze it."
The Love Apple's family meal also provides a place for the chef to innovate, creating new dishes that might be added to the menu. "It's a good way to try out ideas without any judgment," Hart says. "We encourage the chef to try different things and see what comes out of it, maybe a new sauce or something else."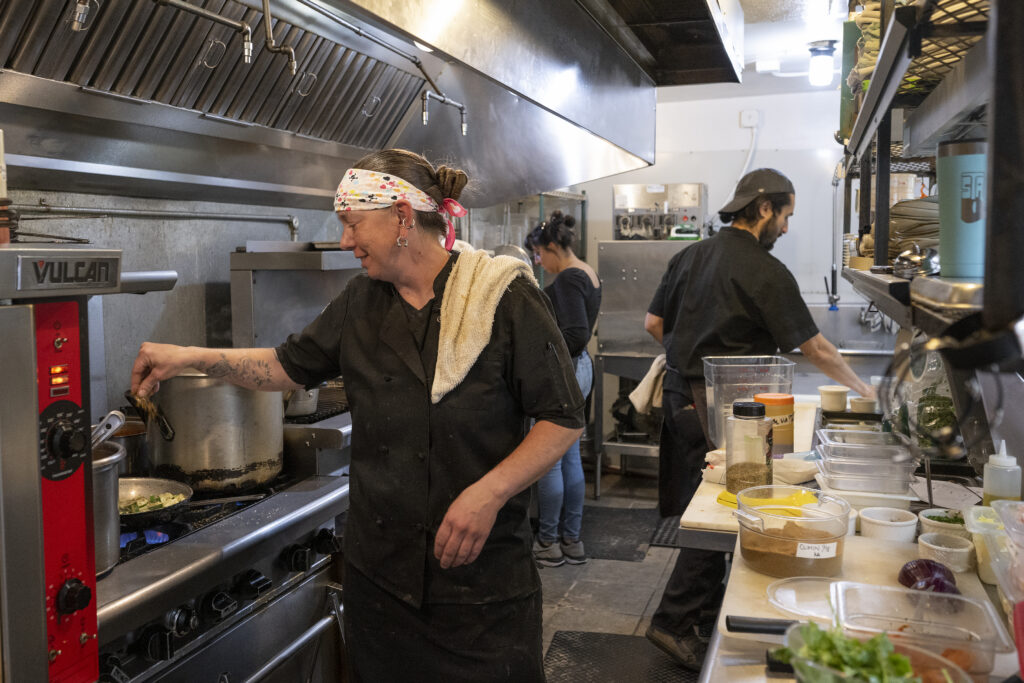 Manager Cheri Keil enjoys the chance to sample those innovations. "It's the time for our kitchen to get creative and try new ideas," she says. But, she adds, it's always a treat when Ford makes chicken enchiladas for everyone.
A Place To Connect
The family meal, served in restaurants around the world, gives employees sustenance as well as a sense of solidarity, as they bond over food before a busy dinner shift. With a sense of family already firmly in place at The Love Apple, the family meal just might resemble your meals at home—filled with laughter, stories, and delicious food, all of which deeply warm the heart.
"It's just nice to sit down and enjoy a meal," says Hart. "I mean, we work in the restaurant business, we should also enjoy wine and food. It's nice to connect with everybody and be together. Everyone has kids, and we're running around all day, so it's nice to come in, sit down and relax, and enjoy a meal together."
Story by Lynn Cline / Photography by Doug Merriam

Subscribe to TABLE Magazine's print edition.