Grounded in Clay: The Spirit of Pueblo Pottery is the First Community-Curated Native American Exhibition at The Met, on view at both the Museum and the Vilcek Foundation now until June 4, 2024.
In a far corner of the first floor of the Met, just past the atrium of the American Wing and through a glass door, lies this small but intimate — and intense — collection of clay vessels, at last shown on their own terms. Rather than being placed within the typical Western concepts of art and history, here, more than 60 members of 21 tribal communities selected the pieces and wrote their descriptions, some of them in the first person.
From the project description: "The approach illuminates the complexities of Pueblo history and contemporary life through the curators' lived experiences, redefining concepts of Native art, history, and beauty from within, confronting academically imposed narratives about Native life, and challenging stereotypes about Native peoples."
At the entrance to the exhibit sits an enormous black jar by Lonnie Vigil from 1995. The text is by Nora Naranjo Morse (Kha'p'o Owingeh/Santa Clara), who begins, "When the clay calls, there's no denying it . . ." She describes Vigil's history, his process, and the knowledge passed down to him by Pueblo ancestors that enabled him to answer the call and to create such a vessel.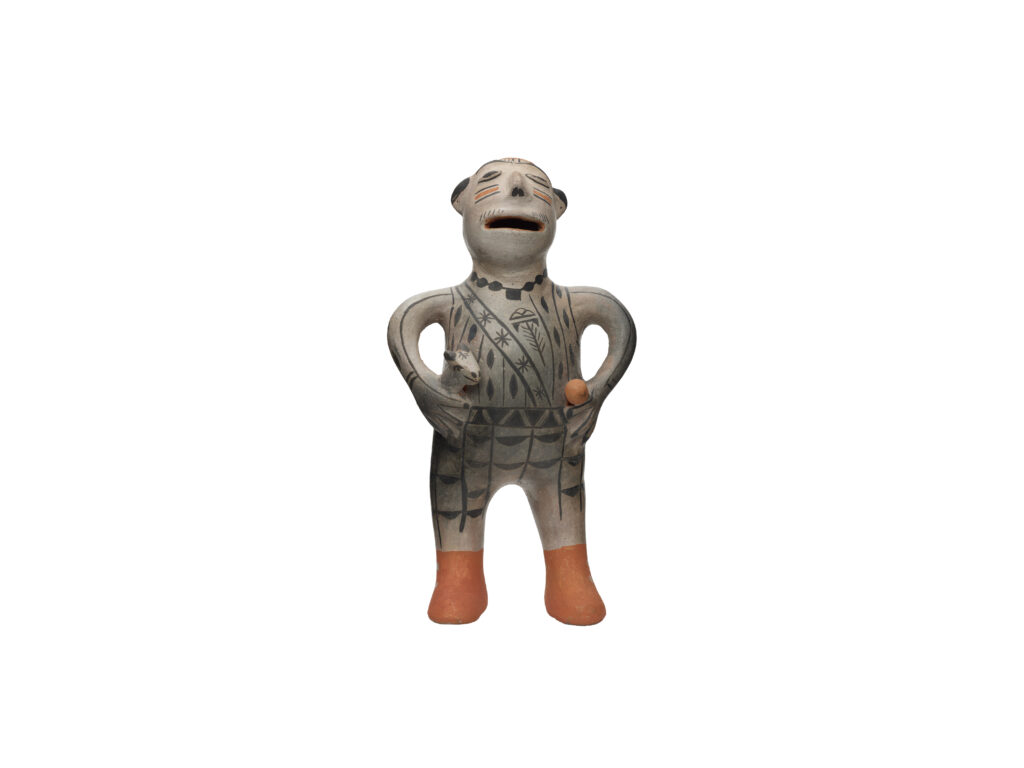 Inside, a long case of other black vessels looks over a collection of water jars — one from San Ildefonso Pueblo and two from Tesuque Pueblo (ranging from 1860 to about 1920) —with curvy or geometric patterns in black on a light background. A Nahohal Tribute Pot (2016) and two Mono Figures (c. 1900 and c. 1966) have unglazed bits of terra cotta that act as a colorful accent. Another case of jars from several different tribes, the oldest dating from about 1880, shows the range these utilitarian objects could have. Nearby, a pair of unglazed, plain jars dating from around 1900 (Pueblo, Tortugas) show off the inherent appeal of the clay itself.
Story by Stephen Treffinger
Grounded in Clay Events at The Metropolitan Museum of Art
In honor of Indigenous Peoples Day on Mon., October 9, The Metropolitan Museum of Art is offering a number of free events.
First on Tue., October 10, Dr. Joseph "Woody" Aguilar (San Ildefonso) joins Russell Sanchez (San Ildefonso) for a Met Expert Talk. These talks give attendees a chance to get a deeper insight into on view galleries and works of art through untold stories from curators, scientists, conservators, and scholars.
Then, on Wednesday, Clarence Cruz (Ohkay Owingeh) visits the museum for another Met Expert Talk before a final Met Expert Talk with Elysia Poon (Indian Arts Research Center Director) and Tony Chavarria (Santa Clara) on Thursday. The day closes out with a Pueblo Community Panel titled Exploring Indigenous Ceramics.
Registration is required for events. Explore the events and save your space at groundedinclay.org/events.

Subscribe to TABLE Magazine's print edition.