Gifting is one of the five languages of love (alongside touch, time, affirmation, and action). Whether you give a tiny statement of thoughtfulness or a major monument of adoration, you can always find a lovely something from local boutiques and makers, like the below handmade holiday gift ideas. Perhaps shopping local is a sixth love language — one that speaks to lively main streets and healthy small businesses!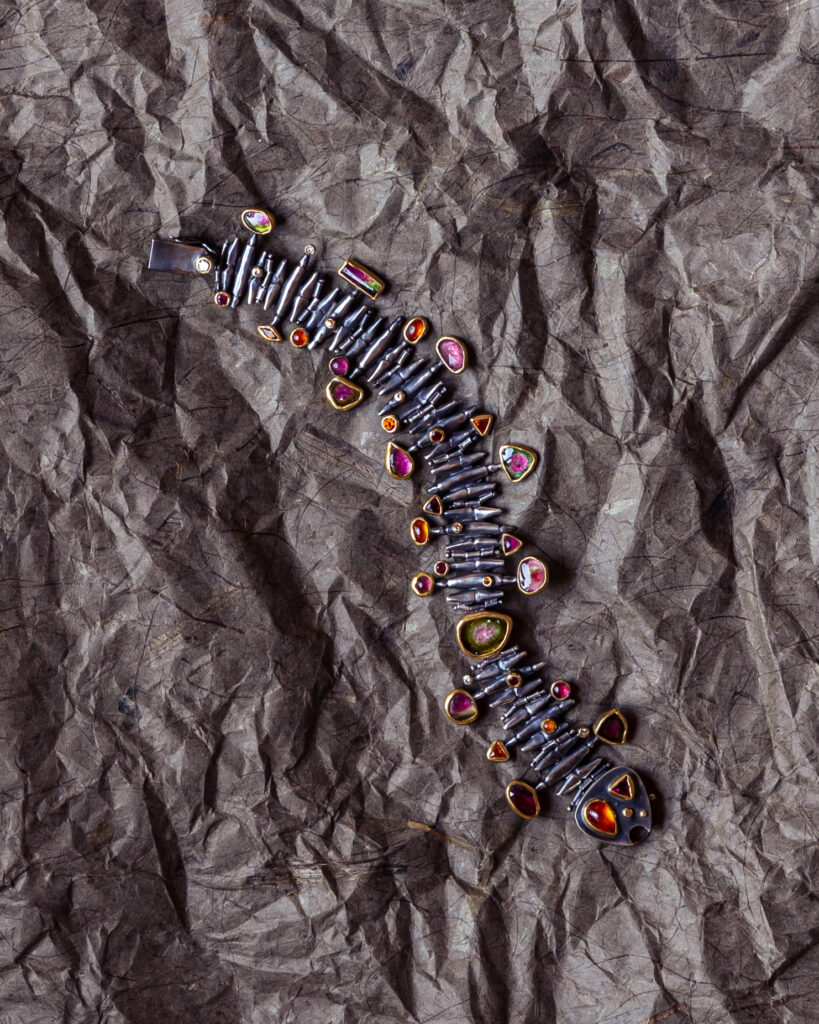 Artist Alison Antelman is inspired by both the human-made as well as the natural world. Each piece is fabricated and forged by hand with individual "pods" hinged and soldered so the pieces–like this tourmaline bracelet–drape beautifully.
Spread the serenity this season with an original Willi Haye blown glass "rock"–meditative works inspired by the Japanese art of knotting. Each one is wrapped in leather, rattan, or cord, often with an accent of sea urchin or porcupine quills.
You can take care of your holiday shopping with one visit to the portal at the Palace of the Governors. Like these drop earrings by James Chavez in soothing tones of sage and bronze or brilliant blue with flecks and veining in black, all materials are genuine and the makers themselves represent their work. Discover items daily at the Palace of the Governors on Santa Fe's historic Plaza.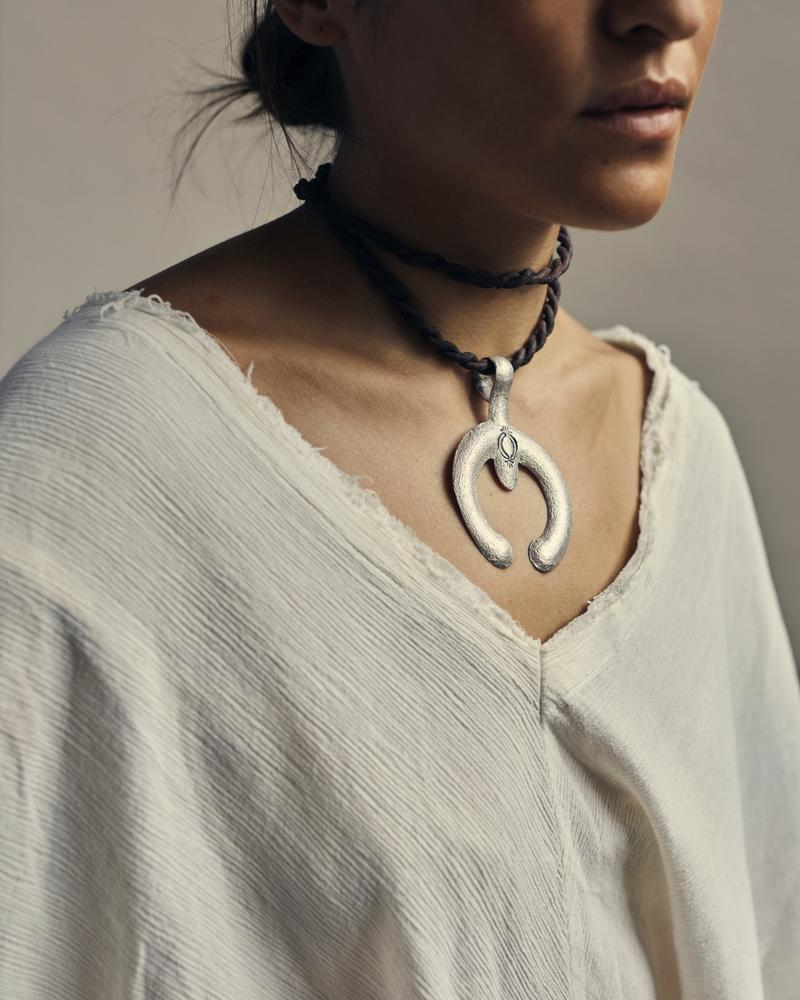 Made from recycled sterling silver, this stamped and tufa-cast naja can be worn long or as a choker. Designed by Maida Branch and Gino Antonio, it's a made-to-order showstopper. Comes with a twisted deer leather cord with sterling silver ring clasp.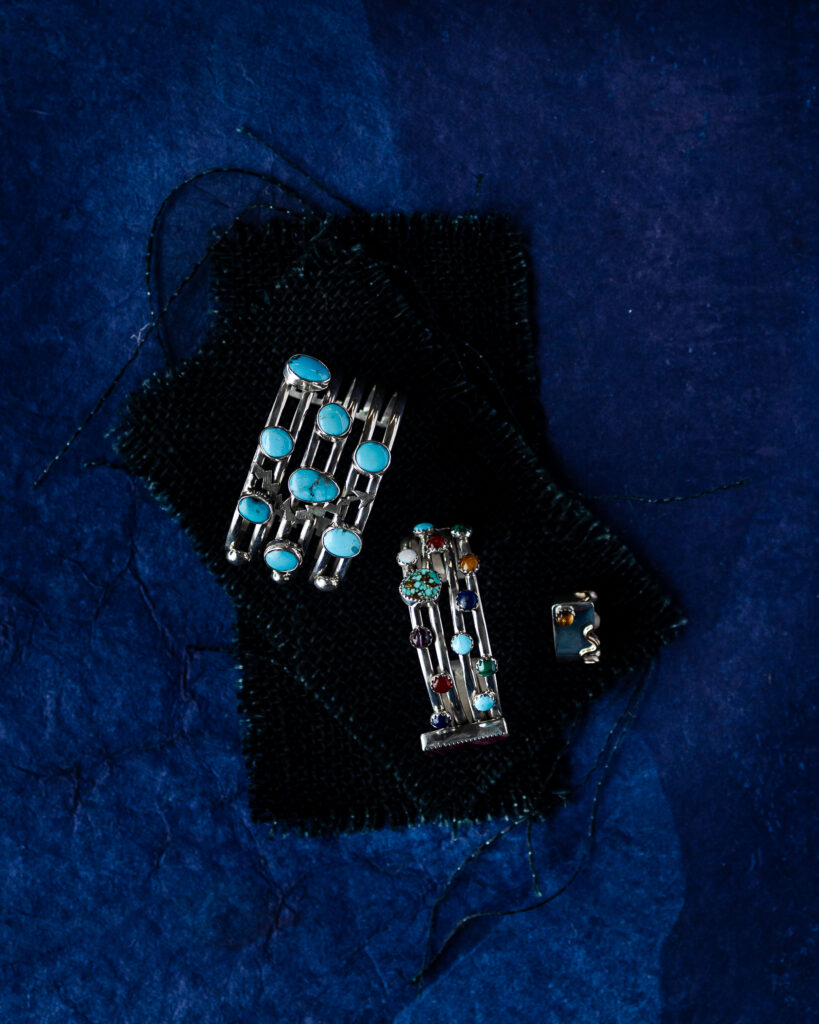 Silver bracelets studded with a constellation of turquoise and other gems. Coriz creates contemporary creations with a timeless elegance–lovely worn as a single piece or en masse as a galaxy of silver and stones.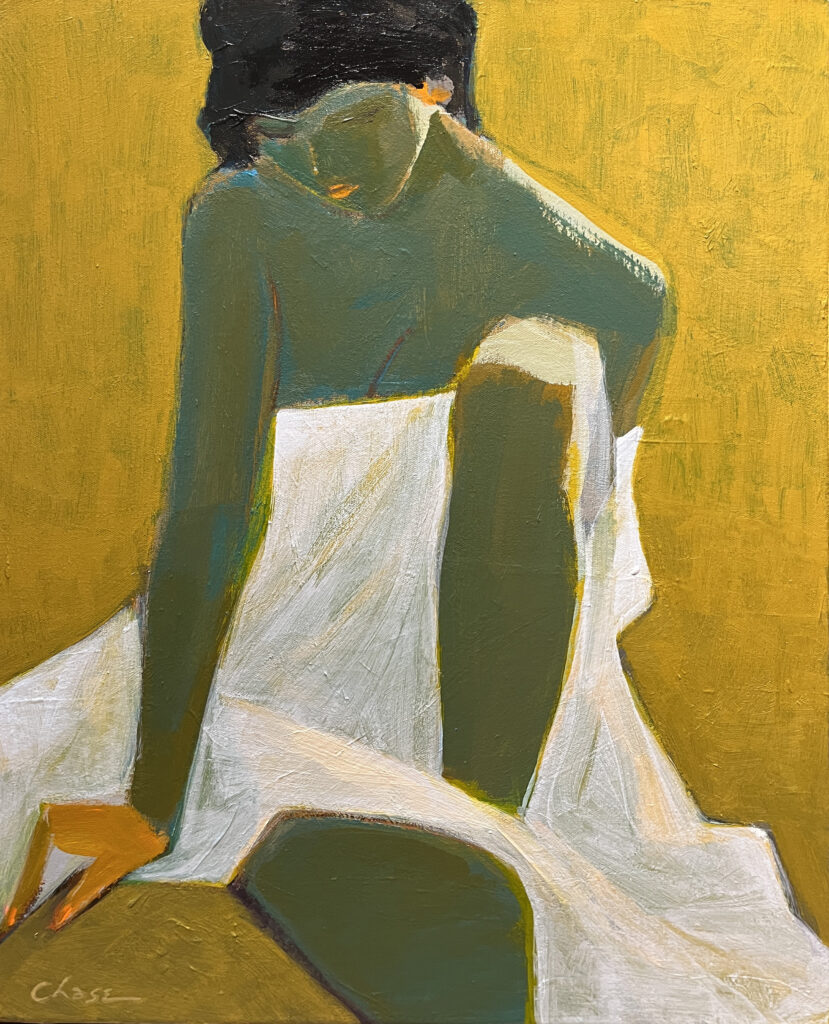 Skin Deep, by artist Jamie Chase, draws on the artist's interest in abstracted figurative work, his years in Europe, and inspiration from ancient Egyptian art, European cave paintings and Native American art.
Nathanael Gray's landscape paintings aren't born from imagination. He straps his easel, canvases, and oils to his back and hikes mountain trails and remote beaches to utilize natural elements like the light during golden hour and the moisture of setting fog.
If it seems like Jessica Pisano's nature-inspired paintings sparkle and shine, it's because she incorporates silver and gold leaf into her oil works.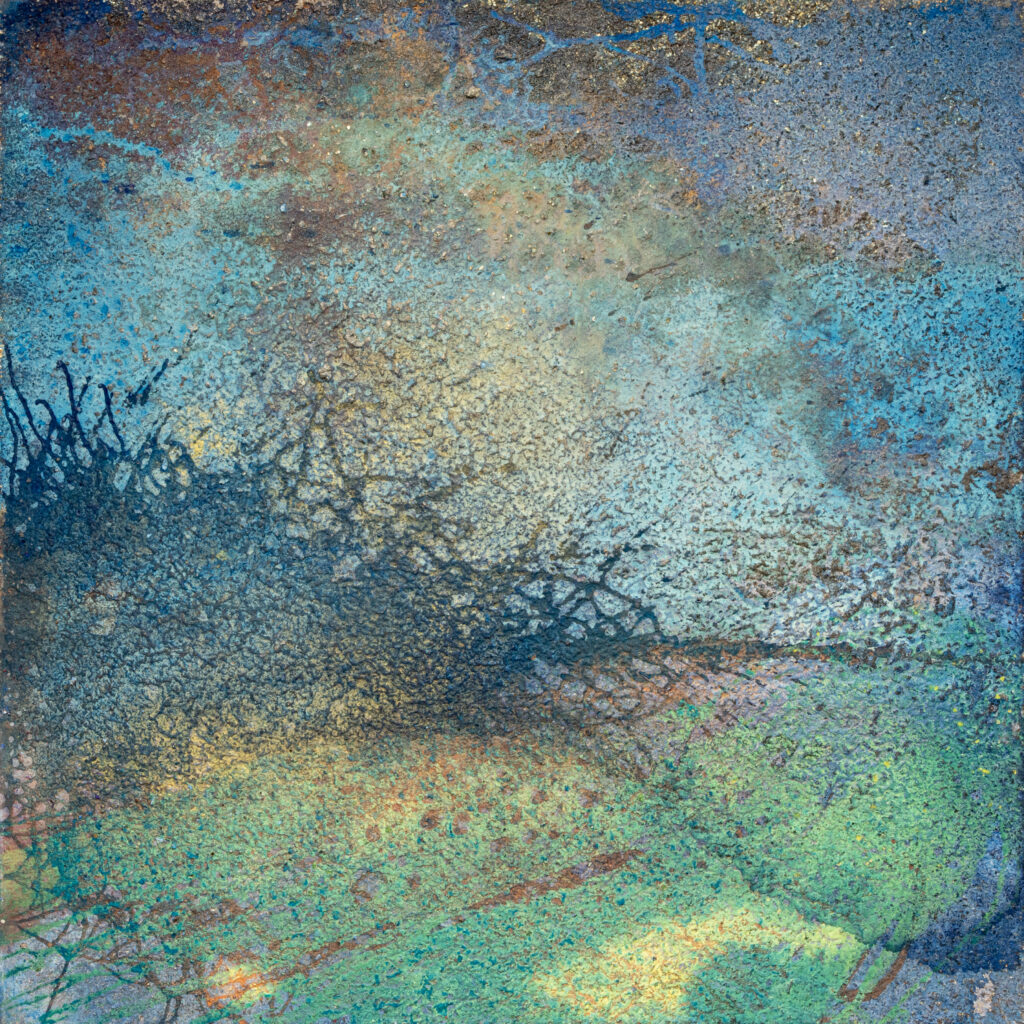 Handmade paints, earth minerals, and natural pigments are used to craft Paul Seftel's contemporary abstract creations, which draw from the hidden depths of the world around us.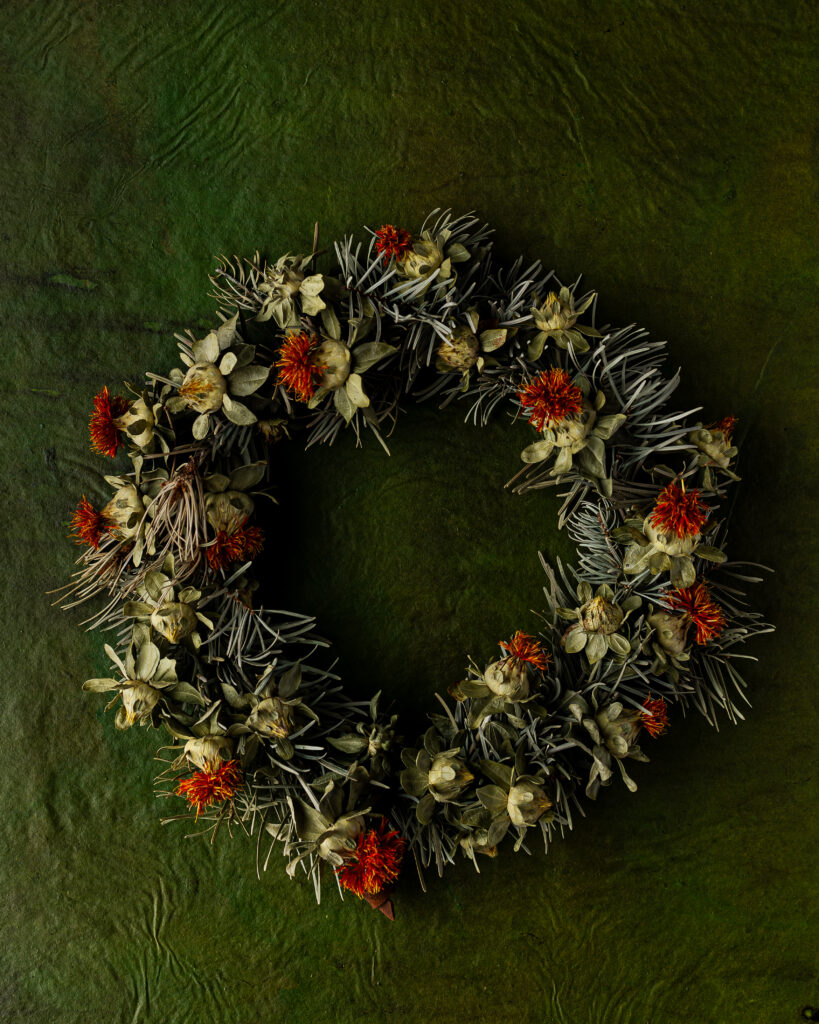 Flowers and foliage foraged in New Mexico are the basis for these stunning wreaths by Canadian-born and now Santa Fe-based artist Arella Hordyk. Visit Folklore on Garcia Street in Santa Fe for more.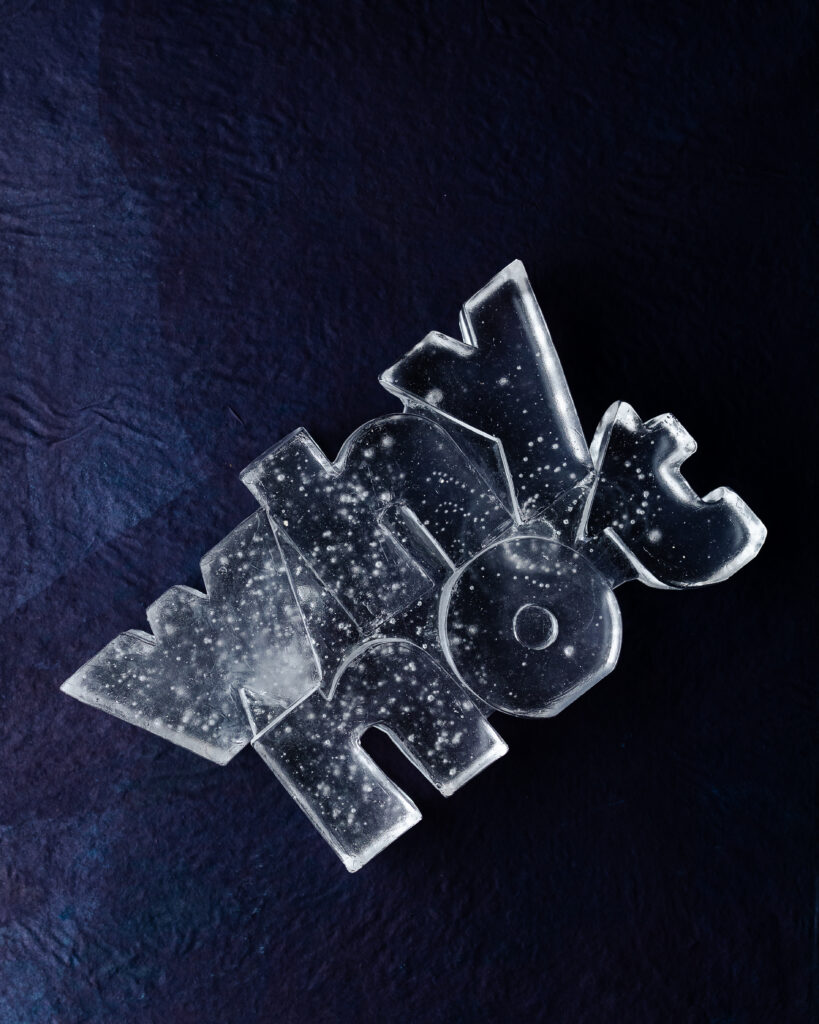 It looks like a slice of deep arctic ice carved into the thought-provoking words, "Why Not." Made of cast glass, it's the perfect gift for the thinker or the doer on your list.
Raw and natural minerals, like the Garden quartz crystal and green tourmaline cabochons shown here, form evocative pendants suspended from handmade, adjustable sterling silver chains. A second necklace enriches this photo: the handmade Fringe Flapper Chain combines Herkimer diamonds and sterling silver.
Handmade Holiday Gift Ideas Selected by Julia Platt Leonard, Keith Recker, Justin Matase, and Wendy Ilene Friedman / Styling by Keith Recker / Principal Photography by Tira Howard

Subscribe to TABLE Magazine's print edition.